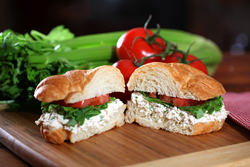 Charlotte, NC (PRWEB) November 19, 2014
Chicken Salad Chick, the nation's newest, fast-casual restaurant concept, is scheduled to open its new franchise location in Charlotte on December 16. The new restaurant will be located in the Bank of America Plaza at 101 South Tryon Street, Suite 10/11 Charlotte, NC 28280.
"We are excited to open our second location in the city of Charlotte," said Kevin Brown, president of Chicken Salad Chick. "We have already been so pleased with the positive response from our first area restaurant, and cannot wait to serve more guests at this new location in the uptown area."
Current owners Julie Beville and Michelle Singleton of SingBev Hospitality, LLC are thrilled to open their second of ten Charlotte locations following on the heels of their successful opening across town on August 5. SingBev Hospitality, LLC also currently operates three Chicken Salad Chick restaurants in Greenville, Lexington and Columbia, SC. "We have already fallen in love with the culture and residents of this city, and are so grateful to be opening our second location," said owners Julie and Michelle. "We can't wait to bring more of the best chicken salad in the south to Charlotte!"
Born In Alabama -- The Chicken Salad Chick concept was established in Auburn, AL in 2008 in the kitchen of founder, Stacy Brown. Stacy quickly learned that selling a homemade recipe from her kitchen is against the law, and after being shut down by the health department, she decided to solicit the business expertise of her future husband and fellow founder, Kevin Brown. Together, they opened a small takeout restaurant which quickly grew to enormous demand and additional locations. Chicken Salad Chick has currently sold 100 franchises to be developed across the states of Alabama, Florida, Georgia, North Carolina & South Carolina, Tennessee, and Texas.
"Kevin and I have been overwhelmed with excitement and hospitality from the Charlotte community," said Chicken Salad Chick Founder Stacy Brown. "Charlotte is a wonderful place for us to showcase our brand to not only existing customers, but also those who have yet to experience our concept."
About Chicken Salad Chick
Chicken Salad Chick, the nation's newest, fast-casual restaurant concept, is led by experienced food and operations executives. The concept puts an edgy twist on a southern classic, offering guests a "custom-fit" chicken salad experience with 15 original flavors to choose from, as well as gourmet soups, flavorful side salads and freshly-baked desserts. There are currently 25 Chicken Salad Chick locations open throughout the Southeast. Corporate offices are located at 724 North Dean Road in Auburn, Alabama. See http://www.chickensaladchick.com for additional information.