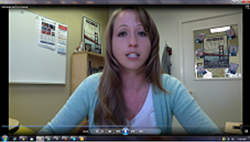 Target messaging will be evolving from email, petitions or social media posts, to creating more personalized relationships
San Jose, CA (PRWEB) November 20, 2014
If a pollster walked up to any eligible American voter on the street and asked them if they voted November 4th, in the midterms, they would be lucky if one in three said yes.
Gartner Research noted, Americans generally turn out lower numbers in midterms, as opposed to Presidential elections, but this years' low turn-out was a message to Congress.
One can pursue a multitude of political pundits' "views" in the media on why there is so much voter apathy in the US.Talking with a number of young, diverse, urban and mobile voters, a big part of the "apathy" seems to be a feeling that the midterms are somehow less important than a presidential election, and a real dissatisfaction with a connection to the candidate's stance on issues, all balled up into a view that a vote doesn't really make a difference.
Can new communication channels get voters more engaged in elections? As Colin Wood described it in his article 3 Technologies That Can Boost Voter Participation in Government Technology, "there are tools that empower citizen users and inform politician users, [to foster] new insights into political discussions that previous generations were unable to unearth."
4 People in Action is a tool that "now provides a utility for connecting representatives and the public where previously there was little contact," says Rani Yadav-Ranjan, founder and CEO.
4PIA is an adaptive data learning and target video messaging company. It uses analytics and powerful sentiment analysis to visualize the effectiveness of the social internet.
"Target messaging will be evolving from email, petitions or social media posts, to creating more personalized relationships between constituents and decision makers, says Christopher Benak, VP of Business Development for the company. "People actually want more than just a vote or a signed petition; they want a direct one-to-one experience."
With a host of new younger members coming in to government, it is actually ushering in more who embrace new technologies for constituent reach. For example, look at the 29 year old Rep.-elect Elise Stefanik in New York who is the youngest ever elected to Congress. Another is Saira Blair, an 18-yr old new State lawmaker from West Virginia. Ms. Blair says, "when you care enough about people to reach out personally, they respect you."
These newer, younger lawmakers represent their generation, a generation that use the social internet and short bursts of communication to stay connected.
"We've had subscribers use 4PIA's new utility to send video messages to decision makers. Representatives Blake Farenthold, Loretta Sanchez and Mayor-elect Sam Liccardo of San Jose were some of the first recipients of constituent videos", says Benak.
4PIA's message tool is built to feel natural to the social media experience. Constituents can now send personalized video messages or questions in 10 or 30 second temporary videos to any Lawmaker, which are then auto-deleted after viewing.
"Decision makers who take their constituent relationships seriously are already monitoring and responding frequently to comments and questions on 4PIA," said Yadav-Ranjan, "similarly, constituents will expect decision makers to acknowledge and get back to them in a timely manner via the new message utility."
And when history repeats itself in 2016 expect to have a lot more young, diverse, urban and mobile voters who will support a candidate.