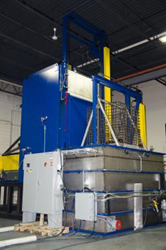 A Horizontal Quench System is a great cost saving alternative to a typical Drop Bottom System which results in a quicker ROI. It rivals many of the typical drop bottom capabilities and features.
East Troy, WI (PRWEB) November 24, 2014
Wisconsin Oven Corporation announced the shipment of a horizontal quench system used for solution heat treating of forged aluminum gun parts. The customer provides heat treating services to a large gun manufacturer and prior to purchasing the solution heat treating system they were outsourcing the work to a commercial heat treating company. The yearly cost savings they realized by bringing the heat treating process in house was well worth the investment in the equipment. Two (2) total solution heat treating ovens were purchased along with three (3) total aluminum aging ovens.
The solution heat treat system has a maximum temperature rating of 1,250°F, a work chamber of 4'W x 4'L x 4'H, and is designed to heat a 1,000lb load of aluminum to 950° F. It is electrically heated with 144kW of heat input and zero-fired SCR power control. The recirculation system utilizes a 15,000 CFM blower with combination air flow design to maximize temperature uniformity. This horizontal quench system features guaranteed temperature uniformity (+/-10°F at 800° F and 1,100° F) and meets the requirements of AMS 2750E Class 2.
The quench tank is a 12 gauge 304 stainless steel construction, 304 stainless steel removable quench tank covers (utilized to minimize heat loss), and utilizes a pneumatically actuated quench elevator with 304 stainless steel wheel rollers and lift structure. The tank has a 2,400 gallon capacity and agitation pump rated for 200 gallons per minute with galvanized steel distribution piping and horizontal style water agitation design. The tank volume is designed for a 15°F maximum water temperature rise (when load is quenched). The tank water temperature capability is rated for 140°F to 180°F normal use (with a 210°F maximum temperature capability).
"A Horizontal Quench System is a great cost saving alternative to a typical Drop Bottom System which results in a quicker ROI. It rivals many of the typical drop bottom capabilities and features. In many instances the Horizontal Quench System will occupy less total floor space than a typical Drop Bottom System of the same chamber volume." Doug Christiansen, Application Engineer
Unique features of this horizontal quench system include:

As low as a seven (7) second "quench delay" (load transfer time from closed door oven chamber to load submerged in quench tank); quench delay timing is variable/adjustable
Electrically actuated vertical lift door with counterweight guided by linear rail/carriage, and variable frequency drive speed control
Linear pusher/extractor (load pusher) with variable frequency drive speed control
Oven relay and sequence control performed by an Allen Bradley® CompactLogix® PLC utilizing state of the art Integrated Motion over Ethernet/IP
Operator interface control (for oven/quench/pusher) performed by an Allen Bradley® Panelview Plus 6® 10" color touch screen HMI for manual and semi-automatic system control capability
Nema 12 rated control panel with disconnect switch, Eurotherm 3504 recipe temperature controller (25 recipe capability), and Eurotherm 3204 process high limit controller
Automatic solenoid actuated tank water fill capability with high/low floats, and low water level pump shut off float
This horizontal quench system was fully factory tested and adjusted prior to shipment to help reduce installation and start-up times. A 150 point Quality Assurance check list was completed to ensure the equipment met all Wisconsin Oven quality standards. The heavy duty batch oven is backed by Wisconsin Oven's Exclusive and Unprecedented 5-Year WOW™ warranty. This warranty covers all materials for all components (less wear items).
About Wisconsin Oven
Wisconsin Oven Corporation has been designing, engineering, and manufacturing industrial ovens and other heating equipment since 1973. Their custom and standard industrial ovens are used for a multitude of applications including heat treating, finishing, drying, and curing. Many of the industries they serve require specific temperature uniformity and equipment performance documentation. Their experienced design team is able to meet even the most stringent standards for their customers' equipment. Wisconsin Oven realizes that the success of the company depends on their Championship team of employees, which is why they have developed a company culture that recognizes and rewards employees. The goal at Wisconsin Oven is to outperform competition and provide customers with outstanding products and service.