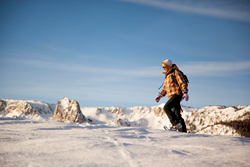 Mammoth Lakes, Calif. (PRWEB) November 18, 2014
FOR IMMEDIATE RELEASE
As the official tourism organization for Mammoth Lakes, Mammoth Lakes Tourism (MLT) has a number of digital assets including photography and video footage. In an effort to share these assets with the community, MLT recently created the Mammoth Lakes Digital Asset Library.
The purpose of the library is to provide local business partners (as well as national and international media) with high-quality, professional images and videos for marketing Mammoth Lakes as a destination.
The library provides community partners who pay into Measure A and TBID funds access to this collateral for use in their own high-quality marketing materials such as rack cards, brochures and/or websites.
Mammoth Lakes Tourism purchases rights and leases assets for its online galleries and manages a large volume of quality, high-resolution images and high-definition b-roll footage. These rights-protected assets may be used royalty free at no cost provided usage meets MLT's Digital Asset Usage Guidelines. Assets remain property of Mammoth Lakes Tourism and the originating artist.
To read the usage guidelines and request access to the Mammoth Lakes Digital Asset Library visit http://www.Barberstock.com/MammothLakes
For more information and for an instructional video for signing up visit: http://mltindustryinsider.com/new-photo-library-available/
Photo credit: Rebecca Garrett/MLT
# # #