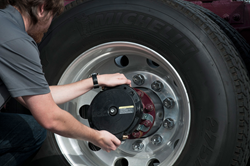 Riverside, MO/Burlingame, CA (PRWEB) November 19, 2014
Velociti Inc., a global provider of technology deployment services, and Aperia Technologies, makers of the Halo Tire Inflator, a versatile, self-powered, bolt-on tire inflation technology, today announced a partnership. Under the agreement, Aperia will make Velociti's project management and deployment services available to its customers for the installation of its Halo.
"We place a premium on our customers' experience," said Josh Carter, CEO and co-founder of Aperia. "With Velociti, we found a partner for deployment and project management services that has the same customer service mindset. While it only takes minutes to install Halo, the successful coordination and management of a fleet deployment can enhance and accelerate the ROI for our customers."
The Halo Tire Inflator can be used on drive axles of medium- and heavy-duty trucks and on trailer axles. Velociti deployment services include hardware staging and configuration, installation using trained technicians, inventory management, documentation and post installation technical support.
"Even the simplest of installations requires project management and deployment services," said Deryk Powell, president of Velociti. "Even when an installation is easy and technicians have the skills to do the work effectively, managing the project is time consuming and using internal resources impacts shop productivity. By leveraging the capabilities and experience of our deployment services, Aperia's customers will generate cost savings and a faster return on investment."
In addition to its Halo Savings Calculator, Aperia customers now also have easy access to the Velociti ROI–Savings Calculator at http://www.aperiatech.com/deployment. The online tool uses data on fleet size, expected monthly savings per unit, labor cost to install a technology, and the anticipated installation timeframe. The tool then generates the additional savings that can be realized by using Velociti's deployment and project management services.
About Aperia Technologies, Inc.
California-based Aperia Technologies was founded in 2010 by two Stanford University mechanical engineering graduate students, one with deep roots in Detroit's automotive industry and the other with the entrepreneurial spirit of the Silicon Valley. Since its inception, Aperia has been solely focused on solving the problem of tire underinflation in commercial vehicles. Its Halo Tire Inflator is a versatile, self-powered, bolt-on inflation technology that uses a wheel's rotation to maintain optimal tire pressure in dual and wide-based tires on drive and trailer axles used on trucks, tractors, trailers and buses. Aperia is focused on making transportation more efficient, safer and better for the environment through clean technology innovation. For more information visit http://www.aperiatech.com.
About Velociti Inc.
Velociti is a global provider of technology deployment services, specializing in the installation & service of a broad range of transportation and networking technology products. Velociti's experience allows enterprise level technology consumers to maximize ROI as a result of leveraging expert, rapid deployment. Velociti clients include many Fortune 500 companies from a wide variety of market segments including transportation, retail, distribution, manufacturing, healthcare, government, education, food service and public venues. For more information visit http://www.velociti.com or call toll free (855)-233-7210.
Media Contact:
Susan Fall
LaunchIt Public Relations
858-490-1050
susan(at)launchitpr(dot)com
http://www.LaunchItPR.com