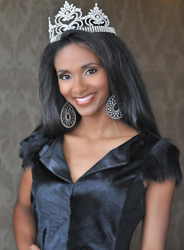 It's not about me, it's about HIM!
Atlanta, Ga (PRWEB) November 19, 2014
Watch Mrs. America 2014 and AMTC Grad Austen Williams participate in the Final Competition of Mrs. World 2014 on November 19, 2014 at 8:00 p.m. EST. "It's not about me, it's about HIM! Anytime I have an opportunity to share the love of Jesus, my heart is full and my cup runs over. Sharing the Light of the world at Mrs. World is just amazing," Williams says.
This Wednesday, Williams will grace the stage as one of 35 contestants representing nations from across the world, all hoping to win the international title of Mrs World. This year, the competition is taking place in Solomon's Island, Md. Mrs. World exists to successfully foster "communication, friendship and mutual understanding among all people."
On August 28, 2013, Williams won the title of Mrs. America 2014. She competed against 51 contestants from around the country, ranging between the ages of 20 to 50. Williams was the first African-American to win the coveted title of Mrs. America in the pageant's 37-year history.
Williams has used her title of Mrs. America 2014 to raise awareness of human trafficking. Recently, she partnered and performed with the film 8 DAYS, which premiered in Sept. 2014. All proceeds from the film went towards anti-human trafficking organizations and safe homes for rescued victims of trafficking. Williams also serves as an Ambassador of Hope with S.H.A.R.E. Together International and co-hosts the empowering teen talk show, INsight. She speaks about her passion to end trafficking, "Everyone can and should have a part in the fight. We all have different talents, gifts, and abilities and if we band together we can change the way people view this problem."
In the 90s, Williams participated in talent-development ministry, Actors, Models and Talent for Christ. She continues to work closely with the organization and says that being with AMTC gave her an upper hand in the industry. "Friends who had been in the city for years would look at me like I was crazy as I tried to determine who I would sign with at various agencies and management companies. It never occurred to me that those opportunities weren't afforded to everyone, because I had been with AMTC since I was four."
Be sure to tune in and watch Austen Williams compete in Mrs. World, 2014 on Wednesday, Nov. 19, 8 p.m. EST, at http://mrsworld.com.
For more information, please visit http://www.theaustenwilliams.com and http://www.insightscene.com. To learn more about AMTC, where Williams received her start, visit http://www.amtcworld.org.