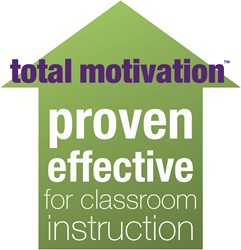 Students who used the Motivation Math and Reading instructional materials showed significantly greater learning growth in math and reading than a comparable group of students that did not use the Motivation materials
Chicago, IL (PRWEB) November 19, 2014
A new independent efficacy study released November 18, 2014 by Mentoring Minds revealed that students learning with Total Motivation™, a standards-aligned, supplemental curriculum, realize gains of 20 points or more over other students. The study also found teachers deem the learning resources an essential classroom tool for achieving student success in meeting the Common Core State Standards and building students' critical thinking skills.
Conducted by SEG Measurement, the study revealed that students who learned with the supplemental program realized significant substantial improvement in their scores after just two semesters. Students who learned with Total Motivation Math curriculum saw 23 points in growth compared to peers who saw only a 14-point increase. Students who learned with Total Motivation Reading curriculum scored four times higher on assessments, increasing their scores by 18 points compared to other students who saw an increase of only four points.
"It was exciting to see the dynamic growth in test scores that students learning with Total Motivation Math and Reading experienced. From pre- to post-test, they realized increases on average of almost double, and in some cases, almost four times more than their peers," said Robert Bush, CEO, Mentoring Minds. "We are thrilled to see such incredible gains in academic mastery and overall improvement in learning. In addition, it is gratifying to know that the rigor and complexity of Total Motivation resonate with educators. The results of this study confirm that our instructional strategies are a powerful way to help students build reading, math, and critical thinking skills."
The study was designed to measure the impact of Total Motivation on math and reading achievement of students in grades three, four and five. It compared students who learned with Total Motivation to a similar group of students who are not learning with the tools. Approximately 725 students in 46 classes in 12 schools across the country participated in the Total Motivation Reading study, while approximately 740 students in 47 classes in 12 schools participated in the Total Motivation Math study. In addition, 100 percent of the teachers who participated in the study would recommend Motivation Math to their peers, and 85 percent indicated the program very or extremely helpful in increasing overall math, critical thinking and problem-solving skills. Nearly 100 percent of teachers using Total Motivation agreed that it is well aligned to the Common Core State Standards.
"Students who used the Motivation Math and Reading instructional materials showed significantly greater learning growth in math and reading than a comparable group of students that did not use the Motivation materials," said Scott Ellis, president and COO of SEG Measurement.
Total Motivation Math, a print and online supplemental curriculum, offers powerful, focused reinforcement to direct math instruction. The student edition includes ideas for formative assessment and performance tasks that help teachers identify and respond to areas of need based on individual or group performance. The teacher edition offers in-depth explanations of all the components of the student edition so teachers can promote mastery of each topic covered in the new standards. The teacher edition also includes essential vocabulary, literature connections and intervention ideas, preparing educators to tackle any questions or challenges they might face in class.
The Total Motivation Reading Student Edition, delivered in both print and online formats, includes 25 reading units in literary and informational text genres, such as journals, letters and biographies. Designed to support the higher-order thinking skills delineated in the Common Core, each unit is comprised of a reading passage, multiple-choice questions, critical thinking questions, a journal entry, a creative thinking activity and homework as well as suggested parent activities. The robust teacher edition provides in-depth explanations of all the components of the student edition and is packed with instructional strategies that promote reading comprehension and reinforce instruction. In addition to completely unpacking the aligned Common Core standard, each unit provides teachers with correlations to both Depth of Knowledge and Revised Bloom's Taxonomy. All 25 units have a vocabulary focus as well as suggested assessments and intervention activities.
Jennifer Brown, a fifth-grade teacher at Erwin Montessori, commented on Total Motivation, "The integration and types of questions were right on target. Some of the questions truly challenged my very highest students!"
Motivation Math and Reading are the foundation of Total Motivation™, a standards-aligned, supplemental curriculum, delivered in a groundbreaking combined print and online solution. This new instructional solution ensures that teachers and students have access to high-quality content to help students meet rigorous standards and effectively build individual critical-thinking skills. The print and online formats allow teachers to optimize the media mix in order to address the learning styles of students, the available technology and assignment requirements. Total Motivation equips teachers and students for 21st-century learning, even in classrooms that lack a 1:1 student to technology ratio.
Visit the Total Motivation page on the Mentoring Minds website for more information.
About Mentoring Minds, the Critical Thinking for Life Company
Mentoring Minds, the Critical Thinking for Life Company, is a national K-12 publisher that develops affordable, effective learning tools that give students the critical thinking skills to succeed, not just in the classroom, but also in life. Experienced educators create award-winning K-12 print and online resources and mobile applications that integrate effective practices for instruction, assessment and learning for students. With offices throughout the United States, Mentoring Minds meets the instructional needs of teachers and students at a rapidly growing number of schools and districts nationwide. For more information about Mentoring Minds and its educational resources, call 800-585-5258 or visit mentoringminds.com.
For more information, press only: Shaun Wiley, L. Wolfe Communications, 847-644-0237, swiley(at)lwolfe(dot)com.
###