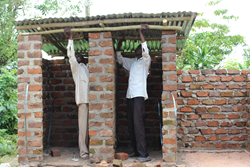 The water flowing from the makeshift toilets runs into the wells making it [the drinking water] contaminated.
Kansas City, KS (PRWEB) November 19, 2014
More than a third of the world's population — 2.5 billion people — do not have access to a safe latrine or toilet, and that includes many children and families Unbound serves.
The United Nations has designated Wednesday, Nov. 19 as a day to talk about toilets.
At first glance, it may seem an odd topic to dwell on for a day. Most people don't spend a lot of time thinking about toilets.
Unless you happen to be one of the people without access to one.
According to the United Nations, almost 2,000 children die every day from preventable diarrheal diseases.
Lack of privacy puts women and girls at risk for being victims of rape and abuse, just to do something that most of us take for granted. Leaving their homes to access public facilities, especially at night, is dangerous.
Maliza and Moses used to be among the families without access to a safe latrine or toilet. They live with their four children in a small house in Uganda. Their 11-year-old daughter, Rosette, is sponsored through Unbound.
The family latrine, made of thatched grass, was run-down and unusable. When possible the family used a toilet in a neighboring church, or they were forced to go into the bushes.
Their children were among many in Uganda who routinely became sick with waterborne illnesses.
According to Unbound's local program coordinator, Alice Noel, the risk of illness is especially high during the rainy season.
"The water flowing from the makeshift toilets runs into the wells making it [the drinking water] contaminated," Noel said. "Many children suffer from diarrhea and other parasitic infections."
Outreach through Unbound's programs is creating healthy change.
Unbound has a Health fund to address sanitation on a wider scale because living in poverty often means living in unhealthy conditions with limited access to clean water, doctors or medication.
Unbound in Uganda conducts education campaigns through parent groups, and forms sanitation committees to monitor needs and help build latrines for families who need them.
Most people know sponsoring a child helps with food, education and housing assistance.
Sponsoring a child may also give a family the most basic tool to ensure health and human dignity.
#
About Unbound
Unbound is the largest nonprofit in Kansas with more than $120 million in annual revenue. Unbound works directly with children, youth, elders and their families in 21 developing countries as they confront the challenges of poverty and work toward better lives.
Unbound distributes direct aid as quickly and efficiently as possible to people who need it. More than 93 percent of all the money Unbound spends goes to program support.