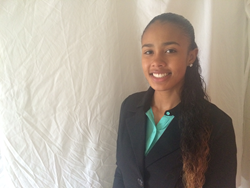 Pelican is pleased to announce Morgan Johnson as the first place recipient of the Fall 2014 Scholarship Contest
Deland, Florida (PRWEB) November 19, 2014
The goal of the scholarship is to recognize potential next generation leaders who embody the integrity, passion, and commitment to excellence that have guided Pelican since its founding in 1972. Pelican is pleased to announce that the first place recipient of the fall 2014 contest is Morgan Johnson, a freshman Sociology major at Spelman College in Atlanta. A native of California, Morgan is already showing that she is a future leader, serving as chair of the school's 2014-2015 First-Year Class Council and working at Jumpstart as an AmeriCorps Member.
Morgan impressed the judges with her essay, entitled, Taking Water for Granted. She demonstrated that she takes water conservation seriously and did her homework, citing several statistics regarding the careless consumption of water in this country. "Statistics show that the average American uses 176 gallons of water a day, while the average African family only uses about 5 gallons per day." In addition to changing her personal shower habits to conserve water, Morgan convinced her family to switch to filtered water and reusable water bottles. When her household dishwasher broke, Morgan calculated that washing dishes by hand was using even more than the average 30 gallons of water, given the large size of her family. She encouraged her parents to buy a new water-efficient dishwasher, which they did, and she happily reported it used just 8 gallons of water per load.
Morgan appreciates that Spelman College works hard to maintain a "green" campus, but worries about the other estimated 4,600 universities and colleges across the United States. "I believe that colleges need to all take initiative in water-conservation by purchasing Pelican Water efficient appliances that are used daily by their students. If I save roughly 200-300 gallons a day just myself, image how many gallons our country can save by being efficient in institutions."
The Pelican Water Scholarship Program is open to legal residents of the United States and the District of Columbia who are currently enrolled (or have been accepted) at an accredited college or university in this country. Students must be a high school graduate and have a 3.5 or higher cumulative GPA and submit a letter of recommendation. In addition to the aforementioned criteria, judges evaluate essays on originality and creativity, emotional impact, and relevance to the assigned topic. The Spring 2015 contest is now open to entries with a new submission deadline of April 17, 2015.
About Pelican Water Systems
PelicanWater.com is the official, factory-direct retail website for Pelican Water Systems, providing professional knowledge and leading technologies in whole house water filtration, countertop water filtration systems, UV bacteria disinfection systems, as well as salt-free water softening and conditioning systems. Pelican Water products use cutting-edge technology and enable customers to go green by eliminating wasteful and harmful salt brine discharge that is polluting our valuable fresh water resources.
For over a decade, Pelican Water has been the global market leader in salt-free water softening systems, and our mission remains to be the world's premier water solutions company through the development of premium, innovative, and environmentally responsible products with an unsurpassed commitment to integrity, passion, and exceptional customer service.
For more information about Pelican Water Systems, visit PelicanWater.com.