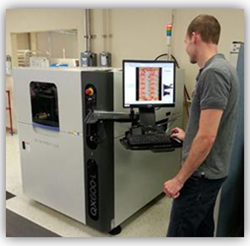 Northfield Minnesota (PRWEB) November 20, 2014
All Flex Flexible Circuits, LLC, manufacturer of flexible printed circuits and heaters, has purchased two pieces of capital equipment in response to increasing demands for automated component assembly. The company's Bloomington, MN facility now houses an Inline Cleaner and a Cyberoptics QX600-L Automated Optical Inspection (AOI) system for precision component handling.
This AOI has the latest optics technology to rapidly scan the placement accuracy of high density surface mount components. The AOI checks for presence of components down to 0201's as well as solder joints, nomenclature, and stiffeners. This machine has the latest technology in optics advancement to repeatedly and reliably read dual, high resolution with minimal false call rates. This provides increased through-put capacity. The strategic purchase was triggered by increasing customer demand requiring high volume component placement.
"Over the years we've improved our component placement capability with automated machines but it's time to balance that with this state-of-the-art inspection and cleaning technology," says Chad Nevils, Bloomington facility manager. "Customer requirements no longer allow for manual inspection of thousands of components. The AOI capability is a necessity to accurately inspect challenging flex circuit designs."
The Inline Cleaner has an advanced system that removes flux, and any residue which ultimately improves the overall reliability of the assembled flexible circuit. According to All Flex Quality Manager Rebecca Steinbauer the equipment allows All Flex to take another step in providing defect free product to customers. "These two equipment additions significantly improve our inspection capability and our ability to sufficiently clean assembled product. We now have the equipment needed for a rock-solid assembly process with the paste screener, pick–n– place, AOI and In-line cleaner."
Steinbauer says the equipment goes hand in hand with meeting various IPC requirements including the J-STD-001 for Soldered Electrical and Electronic Assemblies. Over the years All Flex has gradually provided more parts requiring electronic components, currently about 60% of the flexible circuits they build have some type of component assembly.
About All Flex
All Flex is a privately held company that manufactures quick-turn to high volume production runs of flexible circuits and flexible heaters with component assembly. All Flex flexible circuits are commonly used in the medical, military, aerospace, automotive, instrumentation, and various industrial markets. All Flex is headquartered in Northfield, MN with a third manufacturing facility 35 miles north in Bloomington, MN. The company is: AS9100C\ISO 9001:2008 Certified, MIL-P-50884E Qualified, UL Recognized, ITAR/JCP Registered and is an active IPC Member.