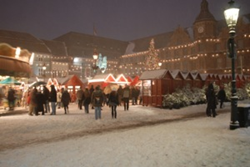 Special among German Christmas markets
Düsseldorf, Germany (PRWEB) November 20, 2014
From November 20 – December 23, visitors to Düsseldorf's Christmas Market are rewarded with a special kind of holiday experience. Not just one market but several beautiful markets await the visitors from all over the world. Düsseldorf's Christmas market is special among German Christmas markets as it is really a merger of several themed markets interwoven throughout the city for a series of changing sensory and shopping experiences - a unique concept that is one reason for the market's huge popularity and success.
Different Christmas villages all around the city's historic center, the Old Town, greet the visitors with different attractions and looks, including an "Angel's Market," a village of Christmas huts that are replicas of Düsseldorf's historic town houses, and a "Star Market" with a sea of crystals and sparkling lights. The famous square in front of city hall, the "Marktplatz," is another highlight of the market and features artisans and holiday-related crafts like glassblowing and candle-making.
Another reason for the market's huge appeal is the fact that it is right in the center of one of Germany's best shopping destinations, and parts of the market are connected to the city's biggest shopping streets: Düsseldorf's luxury shopping avenue Königsallee (King's Boulevard) and Schadowstrasse. The section of the market on Schadow Street, situated directly in front of the "Kö-Bogen" (the new Königsallee extension) with its luxury stores, is designed in Scandinavian style and enchants visitors with a village all in wintry white called "Schneehüttendorf" (village of snow huts). An ice rink is also part of Düsseldorf's Christmas Market.
The city's tourism office offers options for visitors who like to make the most of their Düsseldorf Christmas market experience, including a seasonal walking tour through the festive Old Town, called "Jingle Bells, Jingle Bells" offered on Fridays and Saturdays at 4:00 pm from November 21 – December 20. Tickets are available at the two tourist information offices: Tourist Information Old Town (Marktstraße/corner Rheinstraße, which is also the tour's meeting point), and Tourist Information Main Station (Hauptbahnhof, Immermannstr. 65 b).
Moreover, visitors during the holiday season can add overnight stays for extended shopping and sightseeing, taking advantage of special Christmas Market hotel packages available through the city's tourism website. Specials are offered for stays between November 20 and December 23, 2014, and start at € 60 per person per double room and € 90 for a single room. All packages include breakfast, a DüsseldorfCard (free public transportation within city limits plus 30 free or reduced admissions to city attractions), and a city information package.
The market is open daily from 11:00 AM to 8:00 PM between November 20 and December 23, 2014 (closed November 23). Opening times: November 20 – December 23, from 11:00 AM - 8:00 PM (Sundays to Thursdays), and 11:00 AM - 9:00 PM on Fridays and Saturdays. The market is closed on November 23, a holiday. For more information on Düsseldorf's Christmas Market, visit http://www.duesseldorf-weihnachtsmarkt.de.
For more information on special holiday hotel packages, visit http://www.duesseldorf-tourismus.de/en/accommodation/hotel-packages/heavenly-bargains-for-the-christmas-season/.
For more information on the destination Düsseldorf, visit http://www.visitduesseldorf.de.
# # #
Düsseldorf Marketing & Tourism GmbH is the visitors and convention bureau of the city of Düsseldorf. Its responsibilities include tourism and city marketing, as well as conference and meeting marketing, hotel reservation services, fairs and convention services, city event ticket sales and advance ticket reservations. For more information, visit http://www.visitduesseldorf.de.
Düsseldorf Airport, Germany's Next Generation HubTM, offers several non-stop flights from US & Canadian cities (Atlanta, Chicago, Ft. Myers, Los Angeles, Miami, New York, Newark), as well as convenient connections to many European cities. For more information about the airport, visit http://www.dus.com.