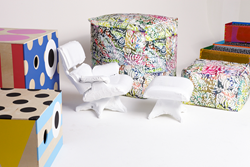 Stamford, CT (PRWEB) November 19, 2014
With the whimsy and joy of the holiday season, DWR posed a question to four creative teams: How would you wrap an Eames Lounge and Ottoman? Designed by the husband-and-wife team of Charles and Ray Eames in 1956, the set is perhaps the most widely recognizable representation of modern American furniture.
Accepting the challenge, the teams came up with delightfully innovative and original approaches that would have brought smiles to the faces of the Eameses themselves. From colorful plywood boxes with provisions for peeking to big beanbags suited for lounging, the wrapping jobs reflected each team's personality while tipping a hat to the character of the Eames Lounge and Ottoman, on everybody's wish list for 58 years.
"We had so much fun with this project," says DWR CEO John Edelman. "Anybody would love to get an Eames Lounge and Ottoman as a gift. And to see how these clever designers wrapped the gift – I think their work will bring a lot of joy to a lot of people during the holidays this year."
The four teams, based mostly in New York City, represent a range of design fields:

Craig & Karl are Craig Redman of New York and Karl Maier of London, who collaborate daily on design projects for the likes of Nike, Apple and Google.
Dusen Dusen is Ellen Van Dusen, a fashion designer whose work has been carried by Anthropologie, Nordstrom and Totokaelo and has been featured in Vogue, Nylon and The New York Times.
Print All Over Me is a creative community of people dedicated to something they call "slow fashion" and to providing ways for just about anyone to produce clothing in their own fabric designs.
Snarkitecture is a collaborative and experimental practice operating in territories between art and architecture and deriving its name from Lewis Carroll's poem "The Hunting of The Snark."
The projects were unveiled at a special event November 15 at the DWR SoHo Studio in New York City. Those by Craig & Karl and Print All Over Me will remain on display at the DWR SoHo Studio through the end of the year; those by Dusen Dusen and Snarkitecture can be seen at the DWR 57th & 3rd Studio.
To learn more about the Big Bow Project and to see the four teams' clever solutions come to life on film, visit http://www.dwr.com/bigbowproject. Follow the action on social media with #bigbowproject.
Design Within Reach, Inc., founded in 1998 and headquartered in Stamford, Connecticut, is the world's largest retailer of authentic modern design. The company sells its furniture and accessories to residential and commercial customers through retail Studios in North America, through the Web at http://www.dwr.com, by phone at 1.800.944.2233 and through the Contract division at http://www.dwrcontract.com.
For additional images and information, contact Kim Phillips at pr(at)dwr(dot)com.