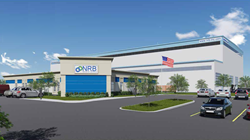 New Holland, Pennsylvania (PRWEB) November 20, 2014
NRB (USA), an Ephrata, PA based leader in off-site modular construction serving the North East, Mid Atlantic and Midwest regions of the US since 2003, is pleased to announce the November 14, 2014 ground breaking of their new office and manufacturing plant to be built at 191 Quality Circle, New Holland PA. "With the interest level in off-site modular construction at an all time high, this is both an endorsement of a stronger US economy and a clear commitment to growing our US operation to meet the greater demands and needs of the commercial construction market," says Bob McNeil, President of NRB (USA).
NRB (USA) is a part of the Grimsby, Ontario, Canada based NRB Inc., a company who has been at the forefront of the advancement of modular construction building technology since 1979. "These are exciting times for the permanent modular construction industry as more owners, developers, architects and general contractors explore the quality and speed advantages of building off site" says Laurie Robert, VP of Sales and Marketing. "Our US operation has built some amazing and highly sophisticated projects out of their current facility in Ephrata, but this new, larger facility will allow us to take on even more opportunities"
NRB (USA) is an integrated company offering clients a full service from concept to completion for each custom project. "We have a highly skilled, cohesive and dedicated team who are eager to move in to their beautiful new home in New Holland" says Don Engle, General Manager of the US operation.
Unlike many traditional modular construction companies, NRB engages a rather unique "build together" process where the custom sized modules are completely assembled at the plant to ensure precision fit and finish. "This new plant in New Holland will even allow us to build a two story project together inside" says Scott Heckel, Operations Manager. "We are thrilled to be able to create a new manufacturing environment from scratch that complements our preferred construction methods".
So, what's in the future for NRB (USA)? Well according to Ray Lee, US Sales and Estimating Manager, it's expanding their offering to include a more diverse range of customized modular and prefabricated products and increasing their market share of the multi-billion dollar US commercial construction market by providing more of what they are already very well known for, and that is Permanent Modular Construction. "Permanent modular construction is reaching an unprecedented level of awareness and engagement in the commercial construction market today and our new, larger manufacturing facility will better position us to offer more clients the speed, sophistication and quality that our off-site construction process brings to the table!"
And how about the new address at 191 Quality Circle? "Well we didn't actually name the new street," says Bob McNeil "but it certainly fits what we believe to be a major benefit to building off site in a controlled environment!"
For more information about NRB, visit http://www.nrb-inc.com
Press Release Contact
Laurie Robert, VP Sales and Marketing
laurierobert(at)nrb-inc(dot)com
1-888-340-8795 x 306