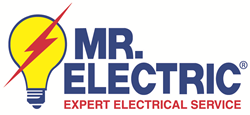 Lights have ratings that are usually identified by a tag on the light cord.
WACO, Texas (PRWEB) November 19, 2014
The holidays are coming up fast and homeowners are going to be pulling out holiday lighting. Mr. Electric wants homeowners to remember safety before installing holiday lighting. These general safety tips from Mr. Electric will ensure families have safe and happy holidays.
General inspection of lights
The first step in holiday lighting is to inspect all cords, strands and bulbs. Check for loose connections, frayed wires, burn marks and dry or cracked cords. Do not use any holiday lighting that has these signs. If the loose connection cannot be repaired, purchase new lighting.
Secure lights properly
Outdoor lights should only be hung using insulated hooks. Metal hooks, nails and staples can cut the cord causing shorts and electrical shock. Indoor tree lighting should only be placed on trees that are fresh and green. Artificial trees should be checked for spurs before putting lighting on the tree. The heat of Christmas lights on dry trees can cause a fire.
Use correct outlets
Homes have a variety of outlets. Holiday lighting should always be connected into a ground fault interrupter outlet. Doing so reduces the risk of shock and shorts in the wiring. This is especially important with outdoor lighting because outdoor outlets can get debris in them and a ground fault interrupter will help mitigate the debris from causing shorts.
Prevent tripping hazards
Always secure extension cords that run along the ground with tape, placing them under rugs or running them along the edges of rooms. This prevents people from tripping over them and keeps high traffic areas clear for walking.
Check lights for correct use
Lights intended for outdoor use only should never be used indoors. Lights have ratings that are usually identified by a tag on the light cord. Check the rating and use guidelines on the light cord before hanging or plugging it in.
Turn lights off when not in use
Turning lights off when not in use not only saves on the electric bill but it is also for safety reasons. Lights should only be kept on when someone is home to monitor them. Lights left on when they are not being properly watched can be a potential fire hazard.
"We want everyone to be safe during the holidays," said Mark Odachowski, owner of Mr. Electric of Montgomery. "Holiday light safety is important, but changing smoke and carbon monoxide detector batteries, using proper tools and ladder safety all need to be taken into consideration as well. The holidays are a time of joy and a little safety will go a long way to make that happen."