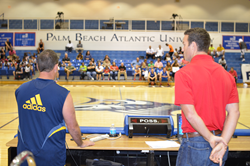 "The year was finally the year we did it", says Sponsor Craig Goldenfarb.
West Palm Beach, Florida (PRWEB) November 21, 2014
This year marks the inaugural year of the Hoops4Heroes 3ON3 Basketball Tournament, which raised a total of $4,341 for wounded veterans in need of housing, meals, education, civilian life training, physical, medical and psychological treatments and therapies.
As a benefit fundraiser for Wounded Warrior Project, Hoops4Heroes took contributions from players, teams, friends, and family of those involved in organizing and participating in the day-long basketball tournament. Those donations added up quickly.
Thanks to the sole corporate sponsor and underwriter Law Offices of Craig Goldenfarb, P.A., and owner of the law firm, personal injury attorney Craig Goldenfarb, 100% of all proceeds raised were able to go directly to benefit Wounded Warrior Project in their mission to serve wounded combat veterans.
The double-elimination bracket-style tournament took place on Sunday, November 9th, 2014, at Palm Beach Atlantic University in downtown West Palm Beach, just two days before Veteran's Day. "We [the organizers] have been kicking around the idea of doing something for veterans for a long time. This year was finally the year we did it", says Goldenfarb.
Tom Copeland, marketing director at the Law Offices of Craig Goldenfarb, P.A., said he came up with the idea one morning while playing basketball with Goldenfarb and his men's league. Turns out, he said, when Copeland went to go research local basketball tournaments, he found that no one in West Palm Beach does one.
"The 'Proud Supporter' platform that Wounded Warriors has created allows anyone who is passionate and committed enough to organize their own sports-related fundraiser, and just go do it. A basketball tournament is unique because it hasn't been done here before, and I knew it would raise a lot of attention", says Copeland.
Copeland took it upon himself and a few key volunteers to organize and promote the Tournament by partnering with Palm Beach Atlantic University, their men's basketball team and athletic staff, and the staff at ESPN West Palm, who among other things, donated time, advertising space, and awareness for the event.
Emerson Lotzia, sports anchor for WPTV Newschannel 5 and ESPN West Palm, volunteered as the "Host of Ceremonies" and bracket-maker for the Tournament.
The Tournament registered twelve teams and forty-eight players, playing for two-hundred spectators made up of the family and friends of the players. Each team donated a minimum $60 to Wounded Warrior Project as a Registration Fee to compete in the Tournament.
"Battiers Not Included" is the reigning 2014 Champions of Hoops4Heroes, and won a beautiful engraved trophy and individual medals for each player. Also recognized is Dr. Thomas Roush of Roush Spine in Lantana; Dr. Christopher White of Backsaver LLC in West Palm Beach; and Craig Goldenfarb of the Law Offices of Craig Goldenfarb, P.A. in West Palm Beach for their extremely generous support and donations in the name of Hoops4Heroes to Wounded Warrior Project.
About Hoops4Heroes
Hoops4Heroes is a 3ON3 Basketball Tournament fundraiser benefiting the Wounded Warrior Project in West Palm Beach, Florida. The Tournament takes place annually on the Sunday before Veteran's Day, and any player 18 years old or older is invited to organize a register a Team to compete. Learn more at Hoops4Heroes.org.
About the Law Offices of Craig Goldenfarb, P.A.
The Law Offices of Craig Goldenfarb, P.A. is a personal injury law firm practicing in Palm Beach County, Florida. The firm focuses on clients involved in auto accident, slip and fall, nursing home abuse, and wrongful death personal injury cases. Learn more by calling 1-800-GOLD-LAW (561-444-4440) or by going 800GOLDLAW.com.