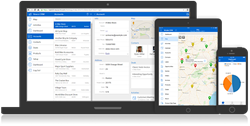 We have successfully fused 2 worlds: slick simplicity users long for and versatility for administrators.
Bratislava, Slovakia (PRWEB) November 20, 2014
Resco, a leading provider of mobile CRM solutions, releases today Resco CRM: a cloud-based CRM optimized for mobility. It aims to attract small to medium-sized businesses with mobile workforce as it offers full-grown mobile apps for tablets and smartphones.
Most businesses have by now realized they need a CRM system instead of spreadsheets and paper files. Yet many get easily overwhelmed when it comes to deciding which software to choose. The choices on the market are plentiful; often not so easily distinguishable.
Resco CRM promises to help companies organize the information on their customers, future sales deals, resources and daily activities. What stands out is the selection of clients users can choose from. Alongside the customary browser client, the product incorporates seasoned mobile applications for iPhones, iPads, and Android phones and tablets.
"We'll serve companies that have mobile workers: sales reps, service staff, real-estate agents... Such businesses need a powerful mobile CRM solution rather than a mobile-friendly version of a CRM system. Resco CRM is what it says it is: a CRM optimized for mobility." Radomir Vozar, CEO at Resco, explains.
The pre-defined setup of the software was designed to serve most businesses, regardless of industry. However, an administrator can alter it with just a couple of clicks if there's need for something additional or peculiar. All changes are instantly seen on all clients and require no programming skills whatsoever. That is how the solution can be modified by an experienced IT person, by an owner of a small business, even a freelancer.
"We have successfully fused 2 worlds: slick simplicity users long for and versatility for administrators." Radomir Vozar emphasizes.
The price of Resco CRM is set for $19.90 for a user per month. For now, only the cloud-hosted version is available on the market. Partners, who'll decide to add Resco CRM to their offering and host it, will soon be able to get their hands on an on premise version.
Resco CRM has a 30-day free trial so that people can test if this software accomplishes what they expect it to.
More info on Resco CRM and its free trial available at http://www.rescocrm.com/