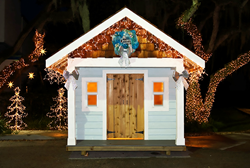 Arthur Rutenberg Homes "Storybook Cottage" will raise money for Vero Beach's Riverside Children's Theatres' Festival of Trees.
Vero Beach, FL (PRWEB) November 20, 2014
Arthur Rutenberg Homes "Storybook Cottage" will raise money for Vero Beach's Riverside Children's Theatres' Festival of Trees.
The custom kids play house cottage will be auctioned off during a silent auction at the Festival of Trees Showcase November 22 & 23 10 am to 5 pm. The custom cottage is the largest item at the auction and is expected to raise the most money for the charity this year.
The 8ft x 8ft cottage features items found in actual custom homes and even has a front porch. This kid's playhouse is essentially a small "real home". Construction items that make this cottage designed for years of imaginative play and enjoyment include cedar wood siding and trim with a cedar shake roof, single hung pgt windows, composite decking, and framing like a full size house. The house was even decorated for the holidays at the Festival of Trees.
The project was made possible by the generosity of the Genoni Family. The Genoni family heads the local Arthur Rutenberg Homes building company in Vero Beach, FL, Beachland Homes Corp, and independent licensee of Arthur Rutenberg Homes..
Nicki Genoni stated, "Our entire family helped in making this project a success. Our three sons Tyler(18), Pierce(9) & Finn(6) , and Tyler's girlfriend Caroline Stawara helped. The boys volunteered their time happily and hope to inspire others to give back to their community as well. They loved ever minute of it! We included them as much as we could. We spent endless hours in design, to assisting with doors, the dreaded multiple coats of paint and decorating once at the theater."
Other companies in the community also came together to help with the project. D's Coastal Windows donated all the windows for the project. Jones Lumber donated the high-end roofing material. Pro Frame built the playhouse per plans developed by designers at Arthur Rutenberg Homes. Collison's towing handled the transportation of the large cottage on a rainy and very windy day with pride, professionalism & tender care.
About the Festival of Trees
The Festival of Trees marks the beginning of the holiday season as the Vero Beach community comes together in support of arts education for children. This year's theme, A Storybook Forest, will be reflected in the design of decorated trees, wreaths, a gingerbread village and more while highlighting the important role Riverside Children's Theatre plays in bringing literature to life for our children. Included are seasonal displays, holiday shopping, children's activities and entertainment.
Riverside Children's Theatre (RCT) believes that a performing arts education can enrich the lives of all children and give each individual child life skills that will promote self confidence, improved social and communication skills, creative thinking and discipline. One of our major goals is to make our programs accessible. Working in partnership with local schools and community groups, we provide these services.
Riverside Theatre is a regionally producing theatre affiliated with Actor's Equity Association, The League of Resident Theatres, Stage Directors and Choreographers Society, and United Scenic Artists. Riverside Children's Theatre, the educational arm of Riverside, offers classes, camps, and training opportunities in the areas of theatre, dance, music, and video for all ages on a year round basis.
The Riverside Children's Theatre website for the Festival of Trees can be found at their website.
About Arthur Rutenberg Homes in Vero Beach, FL
Brothers John M. Genoni (John) and Charles B. Genoni (Chad) have a combined 40 years of Building and Development experience. Under the guidance and experience of their father, John P. Genoni, as mentor and partner, both John and Chad have learned how to weather the ups and downs of the housing market. For over four consecutive decades, the family has built and developed more than 1500 units in Brevard, Broward and Indian River Counties.
Both John and Chad understand the local market well and have developed working partnerships with a multitude of professionals, subcontractors and suppliers. With customer value in mind, they have built a broad spectrum of single family dwellings from entry level single family homes to luxury riverfront condominiums.
As the Building Company President of Beachland Homes, John handles all aspects of construction and purchasing. He has a general contractor's license and a Florida real estate broker's license. Chad handles Beachland Homes' financial management/accounting and lot acquisition. He has a degree in real estate finance. Both brothers oversee sales and marketing for Beachland Homes.
Beachland Homes builds in Indian River County and the Grant Lakes community in South Brevard County.
Find the communities and lots that Beachland Homes builds in at their website.
For more information on Arthur Rutenberg Homes in the Vero Beach, FL area, or for more information on the Festival of Trees Storybook Cottage, please contact Nicki Genoni at (772) 675-4646.