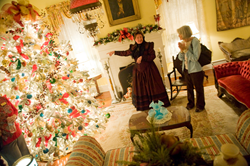 The homeowners take this time to open their homes for others to see as they are guided through and treated to refreshments, as well as stories about the original owners,"said Step-on Guide Jan Pettiet
North Louisiana (PRWEB) November 19, 2014
The Louisiana Holiday Trail of Lights is announcing the schedule of holiday home tours in four of the cities for the 2014 season. The Trail consists of eight partner cities - Shreveport-Bossier, Minden, Monroe-West Monroe, Natchitoches and Alexandria/Pineville in north Louisiana.
The first home tours start in Shreveport-Bossier spanning two weekends - Dec. 4-5 and Dec. 11-12. Step-on guide Jan Pettiet will take visitors through two private residences on the Candlelight Christmas Home Tours, which will include the Logan Mansion, a magnificent 1897 Queen Ann Victorian home, and the Davis Homeplace, which dates back to 1916. Tour-goers can park at Festival Plaza in downtown Shreveport and board the trolley, which will take them to each home. The cost is $26 per person and tickets must be purchased in advance through Eventbrite.
"During the holidays, the Logan Mansion and the Davis Homeplace are spectacularly decked out in all their glory," said Pettiet. "The homeowners take this time to open their homes for others to see as they are guided through and treated to refreshments, as well as stories about the original owners."
Minden is offering the Historic District Christmas Candlelight Holiday Tour of Homes, 4 p.m. to 7 p.m. on Dec. 13. Visitors can meet at the Stewart Center, located at 521 East & West Street, to board the shuttle to the homes. The tour includes homes and churches that depict the architecture of downtown including Greek Revival, Spanish Colonial, Victorian and more. The cost is $10 per person and can be purchased on the day of the tour.
Natchitoches is bringing back its popular Natchitoches Christmas by Candlelight Holiday Tour of Homes, Dec. 10, 12, 17 and 19. The hour-long tours start at 5 p.m. except Saturday tours, which are 1 p.m. to 4 p.m. on Dec. 13 and 20. Tour goers will receive a map and navigate from home to home in historic downtown. These tours showcase some of the most beautiful homes in the oldest settlement in Louisiana. Natchitoches celebrates its tri-centennial this year. The cost is $20 per person and can be purchased in advance by calling 800-259-1714.
New to the Trail, the Holiday Tour of Homes in Alexandria's historic Garden District will open four homes - the Omar Bradley Home on Marye Street, Walter Hill Home on Albert Street, Bottle House on Polk Street and the Scott-Thomas-McDaniel Home on Barrister Street, from 5 p.m. to 8 p.m. on Dec. 13. Participants begin their tour at the First United Methodist Church, located at 2727 Jackson Street, where they will board a trolley that stops at each home. The cost is $25 per person and tickets can be purchased in advance through ticket-central.org.
For more information about home tours and other events on the Louisiana Holiday Trail of Lights visit http://www.holidaytrailoflights.com