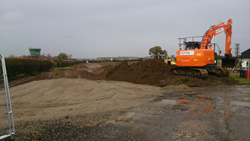 Creating a sustainable energy sector is a top priority for the UK and Iona' s biogas projects provide both attractive commercial returns to investors as well as long term social and economic benefits to local communities and future generations – Mike Dunn
London (PRWEB UK) 20 November 2014
Iona Capital ("Iona"), a leading environmental investor, has financed its twelfth Anaerobic Digestion ("AD") plant, Leeming Biogas Ltd, which is located adjacent to RAF Leeming, North Yorkshire and will be one of the largest gas-to-grid AD plants in the UK.
The project has been developed in partnership with JFS & Associates and UTS Biogas, who are the biogas and biomethane upgrade technology provider. CNG Services are providing the gas network entry equipment and Surgo Construction will act as the EPC Contractor for the delivery of the plant. The day to day management of the plant will be provided by Veolia Environmental Services under a long term O&M contract.
The plant will process up to 80,000 tonnes per year of commercial food waste produced by local businesses and generate approximately 6,000,000 m3 of biomethane per annum. The upgraded biomethane will be injected directly into the local medium pressure gas grid where it will be used by households in the area. The plant at Leeming will recycle food waste to provide renewable energy and a bio-fertilizer by-product that will be distributed on local farm land to improve crop production.
The UK has set ambitious targets for renewable energy – 20% of the country's energy generation by 2020 should be "green" power. Over the past three years, Iona has financed 12 AD projects in Wales, Scotland and England, all of which generate "green" gas, which is either converted into electricity or injected directly into national grid. The latest project follows on a successful financial close of a gas to grid plant in Scotland in September. This is yet another example of private infrastructure funds investing on a sustainable green agenda whilst promoting entrepreneurial businesses.
Ends.
Notes to editors:
If you'd like more information about this topic, or to schedule a meeting with the Iona team please call Julia Safiullina at 0207 064 3300 or e-mail Julia at jsafiullina(at)ionacapital.co(dot)uk
Please visit our website http://www.ionacapital.co.uk

Iona Capital provides equity and subordinated debt into waste projects which have a renewable element. This may include the production of methane gas for conversion into electricity or heat and the recovery of recyclable materials.
Iona develops strategic partnerships and uses sector-specific expertise and financial skills to achieve profitable growth for their investors who range from individuals to large local authority pension funds. For more information please see; http://www.ionacapital.co.uk.
UTS Energy is a leading AD equipment suppliers having been responsible for the design, build, completion of a number biogas plants worldwide. For further information on UTS Energy visit: http://www.uts-biogas.com/en/home.html
Anaerobic Digestion is a process whereby naturally occurring bacteria break down organic waste material into biogas and a liquid digestate fertiliser. The biogas output is rich in methane and can be used either in a local generating plant to produce electricity, or cleaned and injected into the gas grid. AD generation has significant advantages over other alternative energy sources in that it delivers base load electricity locally, and it can be constructed and commissioned in relatively short timelines.