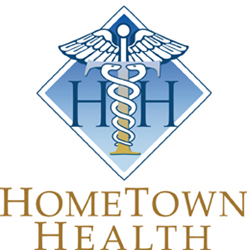 these are the people who are making the most of their challenges and raising the bar in response
Atlanta, GA (PRWEB) December 03, 2014
HomeTown Health, LLC held its 15th Anniversary Fall Conference, "Pulling Back the Curtain on Hospital Transparency", at Callaway Gardens in Pine Mountain, Georgia November 11 through November 13, 2014 with more than 200 attendees representing over 40 hospitals and 60 business partners.
As part of the annual conference, HomeTown Health announces and recognizes its 2014 recipients of honor. The 2014 Patient Financial Services Director of the Year was presented to Samantha Allen at Colquitt Regional Medical Center. The CFO of the Year was presented to Cathy Cason at Jeff Davis Hospital. The CIO of the Year was presented to Tracy Gray, CIO of Archbold Medical Center. The Nurse Executive of the Year was presented to John Roland, DON at Bleckley Memorial Hospital. The prestigious Hospital Leader of the Year award was presented to Jim Yarborough, CEO of Elbert Memorial Hospital. The Hospital of the Year award was presented to the leadership team representing Emanuel Medical Center. HomeTown Health also recognizes a key business partner as Business Partner of the Year for their dedication to serving and creating success at HomeTown Health member hospitals. The 2014 Business Partner of the Year was presented to Stan Hurt of docQmed. "To be named to any of these awards is a testament to their dedication, hard work and integral role played in the success of their facilities," says Kathy Whitmire, HomeTown Health Managing Director. "These are the people who are making the most of their challenges and raising the bar in responding to and leading their team through change."
HomeTown Health, LLC is a network of rural hospitals, healthcare providers, and best practice business partners who collectively pursue ways to help its members survive in this environment of constant change in reimbursement, operations and technology serving over 70 hospitals throughout the Southeastern United States. HomeTown Health, LLC is committed to providing legislative representation, best practice solutions and continuing education and training through research and the continuous improvement of processes for healthcare providers.