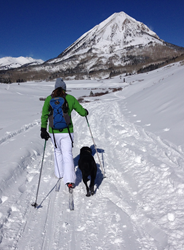 Gunnison-Crested Butte, Colorado (PRWEB) November 19, 2014
With more than two feet of fluffy white snow falling over recent days, Gunnison-Crested Butte Valley is off to a momentous start to winter. Crested Butte Nordic Center is open with some of the best early season conditions on record, and Crested Butte Mountain Resort is gearing up to open next week in time for Thanksgiving. Here are several prime reasons to start enjoying winter now and great early season deals starting at just $59 per night/per person for lodging and skiing.
Free Skiing
No need to worry about having enough money to rent equipment, buy lunch or enjoy an après ski cocktail when the lift ticket for skiing and boarding is absolutely free, no strings attached, for Crested Butte Mountain Resort's opening day on Nov. 26. Live music is planned at the slopeside Butte 66 throughout the day, providing a festive start to season.
All season long, Crested Butte Nordic will offer complimentary skiing and ski gear for youth ages 17 and under, making cross-country skiing and snowshoeing attractive and affordable ways for families to enjoy mountain trails.
Power Up Ski Skills
Pig out on turkey and all the fixings, work off the calories and learn something new at Crested Butte Nordic's annual Thanksgiving Training Camp on Nov. 27 – 29. All levels of cross-country skiers can attend with groups divided by experience and into classic and skate skiing disciplines. The camp kicks off with a refresher round robin clinic for classic skiers on Thanksgiving morning and continues with half- and full-day clinics on Nov. 28 and 29. Clinic instructors include Olympians Rebecca Dussault and Ingrid Butts.
Those who love the outdoors will appreciate "Summits of My Life – A Fine Line," presented by Crested Butte Film Festival on Nov. 28 at 7 p.m. to benefit Crested Butte Nordic. On Nov. 29, the Thanksgiving Training Camp Party and Silent Auction at the Red Room features delicious fare, libations, music and dancing at 6 p.m.
Ski mountaineering continues to gain traction but how does one go about learning this unique sport? Crested Butte's gOCB Professional Skimo Team is presenting a solution by offering the first-ever gO Skimo Camp on Dec. 13 – 14 at Crested Butte Mountain Resort. Local world-class, professional athletes and coaches Bryan Wickenhauser, Brian Smith, Jari Kirkland, Jon Brown, Sari Anderson and Stevie Kremer will work with participants on uphill, downhill and transition skills on alpine touring (AT) gear, and two forums will focus on nutrition and performance, ski-specific core workout lessons, product development, beginner and advanced racing techniques and injury prevention tips. A skimo gear swap, yoga session, winter run, skimo race and social gatherings also are part of the weekend.
Get Your Race Face On
Of the three International Ski Mountaineering Federation (ISMF) sanctioned races in the United States this season, Crested Butte is thrilled to host two events. The first is the fifth annual Irwin Guides/Griggs Orthopedics ISMF Race on Dec. 6 in nearby Irwin, a former mining town near Crested Butte. Competitors in the race division should plan on 5,000 feet of elevation gain/loss over a 10-mile, three-loop race course while the recreation division features 3,500 feet of elevation gain/loss over 6.5 miles, which includes the first two loops of the race division course. An awards party is planned for 5 p.m. at Mountaineer Square Ballroom in Mt. Crested Butte, held in conjunction with the Crested Butte Avalanche Center Awareness Party.
The Mountain Store Citizens Race Series is competitive and fun for all ages and abilities with classic and skate ski races held on Saturday mornings at scenic locations within Crested Butte Nordic's groomed trail network. Beginning with 5 and 10 kilometer lengths in early December, race distances increase up to 20 km leading up to the 29th annual Alley Loop Nordic Marathon on Feb. 7. Citizens Race dates are Dec. 13 and 20 and Jan. 10, 17 and 24.
The Gunnison-Crested Butte valley has the unique distinction of being one of the birthplaces of mountain biking and continues to push the envelope with a fat bike race series this winter that kicks off on Dec. 21 at 2 p.m. in Crested Butte's Magic Meadows area near Peanut Lake. The series continues with a Jan. 3 race in Gunnison at Hartman Rocks Recreation Area and Feb. 6 in Crested Butte in conjunction with Alley Loop.
One-of-a-Kind Shops & Holiday Markets
Skip the malls and find extraordinary gifts in one-of-a-kind, locally owned toy stores, boutiques, coffee shops, distillers, galleries and ski shops in the historic downtowns of Gunnison and Crested Butte and the ski area base in Mt. Crested Butte. First Friday Art Walk & Music in Gunnison on Dec. 5 and ArtWalk Evening in Crested Butte on Dec. 31, both held once a month throughout winter, are a great chance to browse and buy great local and regional art at galleries. Two special opportunities offered only during the holidays are Crested Butte Holiday Bazaar at Queen of All Saints Parish Hall on Dec. 6 from 10 a.m. – 4 p.m. and Gunnison Art Center's Holiday Art Market open Dec. 9 – 24.
For creative souls who like to make their own gifts and holiday decorations, Gunnison Arts Center and Art Studio of the Center for the Arts in Crested Butte have paint your own pottery sessions available on Dec. 13 (GAC) and Dec. 6, 7, 13, 14, 27 and 28 (Art Studio). These are just a few of the holiday happenings throughout the season.
Savor a Concert or Play
The hip hop duo Blackalicious and opening act Daniel Bambaata Marley, the oldest of Ziggy Marley's six children, opens the Center for the Arts Crested Butte's winter season on Dec. 13 followed by Nashville-based Due West's Christmas concert on Dec. 20. Theatre fans also have two stellar options with Alan Wartes directing his original play "Another Story" at Gunnison Arts Center on Dec. 11 – 13 and 18 – 20 and Crested Butte Mountain Theatre presenting "Christmas Thieves" on Dec. 16 – 23. All three organizations help keep the arts scene sizzling throughout winter months.
Early Season Travel Deals Galore
Take advantage of Elevation Hotel & Spa's Dreaming of a White Thanksgiving deal and stay slopeside in Mt. Crested Butte for only $89 a night. The offer is good for stays from Nov. 26 – 30, 2014 and includes complimentary Thanksgiving dinner for two when staying on Nov. 27. The rate does not include tax and resort fee.
Purple Mountain Bed & Breakfast's Early Season Lodging Special for rooms starting at $99 per night includes a gourmet hot breakfast and is available from Dec. 5 – 20, 2014. A two-night minimum is required.
It pays to plan in advance with Nordic Inn's Book Early & Save 40%, good for stays from Nov. 26, 2014 through April 30, 2015. Stay 500 yards from the chairlifts at Crested Butte Mountain Resort ski area for only $149 for a Signature King room (includes breakfast for two) and $161 for a Signature Double Queen room (includes breakfast for up to four) when booking this deal by Dec. 31, 2014.
The $59 Early Season Ski 'n Lodge package offered by Three Rivers Resort in Almont, located between Gunnison and Crested Butte, is per person/per day based on double occupancy. The deal includes a lift ticket for Crested Butte Mountain Resort and a lodge room with queen bed, fold-out double futon and kitchenette and is available for stays from Nov. 27 – Dec. 11, 2014. Reservations must be made at least 48 hours in advance of stay, and cabins and other lodging options can be booked for an additional cost.
To book these deals and save on flights, hotel rooms, car rentals and more, go to http://www.VisitGCB.com.