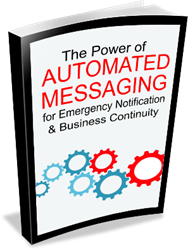 Learn how automated messaging can better protect your people and your business by accelerating emergency notifications and IT alerts.
San Francisco, California (PRWEB) November 20, 2014
The leading provider of Emergency & Mass Communication solutions, Regroup, has released an authoritative new white paper: "The Power of Automated Messaging for Emergency Notification & Business Continuity."
Download Regroup's paper by visiting: http://bit.ly/1xsOj57
This document is a must read for any organization that has ever experienced:
1. Critical and/or non-critical alerts being delayed, inaccurate or not sent due to human error
2. Severe weather alerts not being delivered fast enough during time-sensitive events such as tornado warnings
3. Loss of business continuity due to personnel not being alerted quickly to issues that caused operational disruptions, such as low inventory levels, IT related issues or power outages
Readers will learn how automated messaging can reduce the margin for human error, increase efficiency levels and productivity during day-to-day operations, and dramatically accelerate delivery of critical and non-critical notifications.
Through use cases, Regroup illustrates how automated messaging will empower organizations to:

Enhance employee safety by accelerating the delivery of emergency notifications and severe weather alerts by leveraging federal alerting technology including IPAWS and NWS/NOAA, resulting in a quicker response time.
Maintain business continuity by enabling appropriate personnel to receive event-triggered alerts like staff schedule changes, low inventory levels, IT security breaches and power outages.
Increase productivity and enhance efficiency levels by automating routine, day-to-day messages, freeing up manpower and reducing the margin for human error.
Easily configure automated messages to be sent to cell phones, landlines, email, desktop alert systems, digital signage, PA systems, outdoor speakers, websites and more.
For a live demo of Regroup's Emergency & Mass Notification System, sign up here: http://bit.ly/1thO1Zq
About Regroup:
Regroup, the leading Emergency Notification and Mass Communication provider, offers easy one-click messaging to mobile phones (text/voice), landlines, email, social media, websites, and more. Regroup stands apart from other mass messaging systems with its ease of use, seamless integration with social media and client databases, unparalleled reliability and unlimited text/voice/email messaging.
To learn more about how Regroup's Mass Messaging and Emergency Notification System can streamline your organization's day-to-day communications, as well as provide rapid communications during a crisis situation, call 917-746-6776 or email inquiries[at]regroup[dot]com.