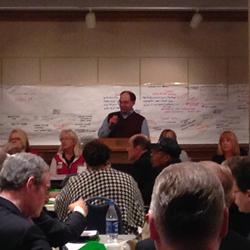 AKRON, OH (PRWEB) November 20, 2014
Over 60 mature job-seekers and 15 employers showed up to participate in the Mature Services' Employment & Training Solutions Mini-Job Fair on November 14th at the First Congregational Church in Akron. The Mini-Job Fair is a unique approach to pairing employers with job seekers and is different from the standard job fair in the following ways:

Each business representative gets the opportunity to explain their history, goals and mission and most importantly for mature job seekers, tell what jobs they have available and what they're looking for in employees.
A short Q & A session concludes each employer's presentation, making for a great open dialogue between job seekers and the employers.
Following the employer introductions, job seekers are able to meet with each employer in five minute increments. This allows for a more personal and face-to-face communication between employer and job seeker, and the smaller format, adds a more relaxed quality you can't find at typical job fairs.
On this date, a wide variety of jobs were available with everything including nurse, pollster, cook, sales associate and manufacturing machinist being offered as possible positions from the different employers.
According to Don Zirkle, Training and Placement Supervisor for Mature Services' Employment & Training Solutions, "Between the employers present at the Mini-Job Fair today, there were 300-400 jobs openings to be filled. Placements from this type of event are usually high, and Mature Services hold the Mini Job Fairs periodically over the course of the year."
"Of course," Zirkle added, "we have our 25th annual Mature Workers' Job & Career Fair in April, and that proves a good place for employers who want to have access to a large pool of candidates in one day. Attendance at that event runs well into the hundreds."
If you are interested in attending or learning more about Mature Services' Mini-Job Fair, please contact Don Zirkle at dzirkle(at)matureservices(dot)org, call 330-253-4597 x174/178 if you're an employer interested in participating in a Mini-Job Fair or 330-253-4597 x135 if you're a mature job seeker wanting to attend or get more information about the next Fair.
Mature Services, Inc. is an equal opportunity employer and service provider and has been serving the needs of older adults since 1975.
###