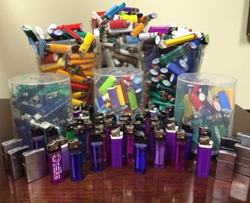 This isn't you're your ordinary hypnosis session, this is a special type of Super Brain Hypnosis that uses technology to enhance the effectiveness and accelerate the results.
Pittsburgh, PA (PRWEB) November 20, 2014
The American Cancer Society will celebrate the 39th Great American Smokeout on November 20th, 2014 by encouraging smokers to use the date to make a plan to quit. By doing so, smokers will take an important step towards a healthier life – one that can lead to reducing cancer risk. Pittsburgh Hypnosis Expert, Dan Vitchoff and PA Hypnosis Center, Pittsburgh's Premier Hypnotherapy Clinic celebrates helps people stop smoking every day. Between now and Christmas, 2014, Dan Vitchoff will donate $50 for every person that comes into his office to stop smoking to the American Cancer Society in honor of the Great American Smoke Out.
Tobacco use remains the single largest preventable cause of disease and premature death in the US, yet more than 46 million Americans still smoke. However, more than half of these smokers have attempted to quit for at least one day in the past year. Quitting smoking is hard, but you can increase your chances of success with help and PA Hypnosis Center is here to help!
Typically, when prospective clients call our office they have tried just about everything else to quit smoking, the patch, pill, gum, cold turkey and / or cutting back and nothing has worked. Even despite the best intentions, something usually happens that triggers people to start smoking again, either stress at work or at home, a major life changing event or being around someone who is smoking. The difference with Dan Vitchoff's trademarked, "33 Method" Hypnosis Programs is that he can actually help you rewire or reprogram your mind to be that of a non-smoker. Imagine waking up in the morning feeling like you had never smoked before in your life. That is exactly what Dan Vitchoff's clients tell us that they experience.
Terry Moss had been smoking for over 10 years and had tried various methods to quit before going to see Dan Vitchoff at PA Hypnosis Center and nothing worked. Her doctor, Dr. George McCollum recommended that she go see Dan Vitchoff at PA Hypnosis Center to help her stop smoking and that's exactly what he did. Terry Moss stopped smoking over 3 years ago.
Just like Terry, thousands other Pittsburgh Area Residents have walked out of Dan Vitchoff's office as non-smoker's for the rest of their lives, leaving behind only the lighters and cigarettes that they don't need or want anymore. PA Hypnosis Center is home of the area's largest, "I don't need you anymore" lighter collection. Vitchoff has collected lighters from clients who have successfully used his methods and techniques to stop smoking. Dan Vitchoff is so confident in his hypnosis programs that he gives clients a 98% Success Guarantee.
Dan Vitchoff has been nationally acclaimed as Pittsburgh's Leading Hypnosis and Hypnotherapy Expert and Mental Training and Performance Coach to Professional and Olympic Athletes. He has clients that fly from all over the world to work with him because of his incredible reputation. Vitchoff practices a unique type of hypnosis which he has patented and trademarked as the "33 Method." This isn't you're your ordinary hypnosis session, this is a special type of Super Brain Hypnosis that uses technology to enhance the effectiveness and accelerate the results. Ross Ventrone of the Pittsburgh Steelers says that Dan Vitchoff's Hypnosis and Mental Training Techniques have been a key factor in helping him achieve the mental toughness that has helped him sustain a successful career in the NFL.
Dan Vitchoff, President of Pittsburgh's PA Hypnosis Center can design a hypnosis program to help you improve your health and quality of life in the following areas: stop smoking, stop smoking without weight gain, weight loss, stress & anxiety, fears, phobias and insomnia, sports performance, golf, self confidence, public speaking, panic attacks, personal and professional development. Contact PA Hypnosis Center at 724-934-8446 or visit http://www.pahypnosiscenter.com or http://www.pittsburghhypnosis.com for more information or to schedule your free consultation and evaluation today.