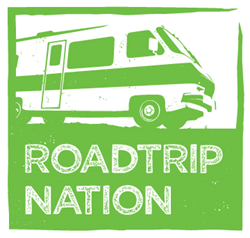 Fort Worth, Texas (PRWEB) November 20, 2014
What: On Nov. 21, 2014, 9 - 11 am, in Forth Worth, TX, Roadtrip Nation, an organization that helps students connect the dots between their personal interests and real world opportunities, will be bringing its iconic Green RV for a live event at Timber Creek High School in Fort Worth, Texas.
The event celebrates the adoption of the Roadtrip Nation Experience curriculum for this school year for Timber Creek High School.
Career exploration will come to life at the event with inspiring speakers and interactive activities that will get students excited and engaged about their upcoming Roadtrip Nation Experience.
The curriculum engages students in self-reflection exercises to help identify their interests. Roadtrip Nation's vast interview archive, which contains video interviews with hundreds of successful real-world leaders spanning every industry, provides students the opportunity to learn the steps each of these leaders took to bring them to where they are today.
AT&T Aspire, the company's signature education initiative, contributed $1.5 million to Roadtrip Nation this year, enabling the organization to engage more than 15,000 students during the 2014-2015 school year.
Who: 750 Students at Timber Creek High School
Special Guests Include:
Roadtrip Nation "Roadies"; Surprise Local Guest Speaker
When: 9 - 11 am
Where: Auditorium
Timber Creek High School
12350 Timberland Fort Worth, TX 76244
Visuals: Roadtrip Nation Green RV, interviews available with Roadtrip Nation staff, school leaders, and special guest.
# # #
Press Contact:
Roadtrip Nation, Loureen Ayyoub
(949) 764-9121 x207
loureen@roadtripnation.com