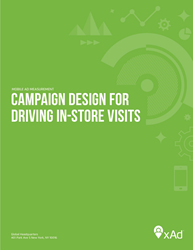 The insights we gain from mobile-location data allow us to connect the dots between online and offline sales – and back to specific campaigns and marketing efforts.
New York, NY (PRWEB) November 20, 2014
New research from xAd shows how mobile devices – and the real-time view of consumer foot traffic they enable – are the key to connecting online mobile activities to offline commerce and store visitation. According to estimates from the U.S. Department of Commerce, nearly 90% of retail commerce happens offline. Yet, until now, marketers have not been able to tie what they know about consumers' digital behaviors to physical actions.
xAd, the global location marketplace, commissioned Nielsen to help marketers understand how mobile advertising can be used to influence real-world behaviors and how to leverage mobile to measure offline behavior. Nielsen analyzed and measured advertising effectiveness across 12 major brands and nearly 80 individual mobile ad campaigns in the Retail, Restaurant, and Auto vertical categories, studying how location-based proximity targeting and creative messaging affect the outcome. The resulting findings are revealed in the new report, Mobile Ad Measurement: Campaign Design for Driving In-Store Visits that outlines some of the best ways to design a mobile advertising campaign to encourage offline activities.
"We understand that mobile plays a key role in the consumer's path to purchase, but we need a better understanding across each industry on the direct impact that mobile advertising can have beyond on-device activities," explained Monica Ho, SVP of Marketing at xAd, who also serves as the co-chair of the Mobile Marketing Association's Location Committee. "The insights we gain from mobile-location data allow us to connect the dots between online and offline sales – and back to specific campaigns and marketing efforts."
The research tested several elements to understand the best way to design a mobile campaign to encourage real-world behaviors. Key questions evaluated included:

How does reaching a consumer when they are close to a store impact their likelihood to visit?
Is serving ads around competitors' locations a successful tactic?
How can creative message be optimized to increase visitation?
Sarah Ohle, Director of Marketing Intelligence at xAd, explained, "Each industry varies quite a bit in terms of needs, immediacy, and frequency. As a result, each industry has specific tactics that work to move consumers from their devices into a business location."
See how the categories compare:
Retail Findings: A crucial tactic to drive store traffic

Mobile location advertising works: Nearly 1 in 10 consumers visited a retailer after being exposed to an ad for that brand.
Location proximity has greatest impact: Adding a proximity message to creative showing the closest business was the strongest overall driver of foot traffic for retail.
Restaurant Findings: Needs drive action

Proximity messages drive results: Like Retail, tests confirmed that adding a location message directly to the banner ad was the strongest performing tactic for driving foot traffic.
Competitive targeting is crucial for the long term but may not have an immediate impact: When someone is already near a competitor's location, serving an ad doesn't lead to immediate visitation – however it's a strong tactic to raise awareness for future restaurant decisions.
Automotive Findings: Long consideration process encourages different engagement tactics

Auto dealership visits are less frequent, but matter more: Auto has the lowest visitation rate of the categories studied, however considering the size of these purchases, even the smallest bump to visitation makes a serious impact.
Awareness is the best play: Proximity in auto is not as important as in other categories for driving immediate lot visitation. Geo-targeting is still important to make sure consumers are getting the right message in the right context to stay top of mind.
For more insights and analysis, view and download the full report Campaign Design for Driving In-Store Visit here.
This is the second in xAd's series of reports on mobile advertising measurement. The first report, Defining Benchmarks for Mobile Success, concluded that click-through rates (CTR), the commonly used online advertising measure, are not the most effective measure for evaluating the effectiveness of mobile advertising campaigns. That report showed how marketers can reach beyond the click and look at new measures – such as secondary actions (SAR) and lift in store visitation (SVL) – for evaluating mobile advertising success. Review the new definitions of mobile advertising success here.
About xAd
xAd is the global location marketplace bringing together buyers and sellers with ad targeting solutions focused on driving in-store traffic and sales. The company is uniquely focused on capturing in-store visitation behaviors for ad targeting, insights, and measurement solutions. The first to visualize real-time foot traffic, xAd customers include 1.5 million advertisers - including direct brand relationships, agencies, ad networks, and other demand side media companies. Connect with xAd at http://www.xad.com, Facebook, Twitter and LinkedIn.