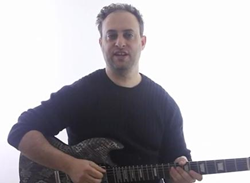 I want to give you an Eric Clapton style lick today, lets say I'm in the key of D
(PRWEB) November 20, 2014
"I want to give you an Eric Clapton style lick today," says Johnson. "Lets say I'm in the key of D." Claude continues by performing the lick which contains a technique that he refers to as "pivoting" and moves across the different positions of the pentatonic scale. Claude uses a variety of techniques, such as bending, slides, hammer-on, pull-offs and vibrato to demonstrate how the pivoting concept works. For guitar TABs and for more lessons that cover this easy Clapton style technique, head on over to GuitarControl.com.
A Pentatonic Scale is a musical scale with five notes per octave and is very common and found all over the world.
Eric Clapton is an English guitarist, singer and song writer born in Ripley, Surrey England in 1945. He is considered to be one of the most influential guitarists of all time and was ranked number 2 on Rolling Stones list of the 100 greatest guitarists. He is the only person to be inducted into the Rock and Roll Hall of Fame three separate times and has won 17 Grammy awards.
Claude Johnson
Claude Johnson, a native of Philadelphia PA, began playing guitar in 1990 after being inspired by players like Jimi Hendrix, Eric Clapton, and Stevie Ray Vaughn. He is the creator of GuitarControl.com and has helped 1000s of people to learn to play the guitar with his critically acclaimed instructional DVD courses, all available at GuitarControl.com
About GuitarControl.com
GuitarControl.com is the leader in modern guitar instruction. It's packed with recourses including articles, video lessons, and the best videos in the business for the beginner to the advanced guitar student taught by the best instructors out there. Weather you are into the blues, rock, jazz, metal, folk, or anything in between, they have you covered.