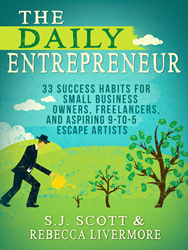 I make sure my employees' energy is in line with my energy and vision.
San Diego, CA (PRWEB) November 20, 2014
Authors Steve Scott and Rebecca Livermore aim to boost the efforts of every entrepreneur out there, small or large, by outlining 33 daily habits to establish in order to overcome the challenges that present themselves in the quest for business success and financial freedom. In creating this book, the authors reached out to various successful entrepreneurs and business professionals to discover the personal paths that have led to their success. One of the anecdotes featured in this book comes from Earth Source Organics (ESO) president Audrey Darrow.
Recently, Audrey's wisdom was also highlighted in another book that focuses on inspiring those seeking entrepreneurial success with quotes from successful and self-made individuals. Now, Audrey's story continues to inspire through her inclusion in this latest release from Steve Scott and Rebecca Livermore.
In The Daily Entrepreneur: 33 Success Habits for Small Business Owners, Freelancers, and Aspiring 9-to-5 Escape Artists, Audrey contributes her secret to success and fulfillment within a business built from the ground up: "At Earth Source Organics, I make sure my employees' energy is in line with my energy and vision. This means I come to work with enthusiasm and a positive attitude, and give kudos to my employees every day." Audrey sees that this helps them to stay positive and keeps employee energy high, which in turn helps to drive sales. If her employees not only know and understand her vision, but share it as well, they all also share in the excitement of the company's success. To read Audrey's full contribution and for more information on the book's release, please visit http://www.stevescottsite.com/daily-entrepreneur-habits.
Audrey laid the foundation of Earth Source Organics on the principle of considering her employees and customers as family, extending to them the same love, generosity, and positivity that she hopes to infuse in and communicate through Earth Source Organics' Righteously Raw Chocolate product line.
More About Righteously Raw Chocolates:
Righteously Raw is the gourmet chocolate brand of the certified organic food manufacturing company Earth Source Organics. Based in Southern California, this company is on a mission to provide organic and delicious foods to its customers to help them lead happy, healthy lives. For more information and to find Righteously Raw Chocolates near you, please visit http://www.righteouslyrawchocolate.com.
To learn more about how Earth Source Organics' company ethos contributes to their success, please contact Audrey Darrow at (760) 734-1867 or info(at)earthsourceorganics(dot)com