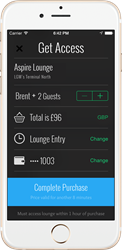 San Francisco, CA (PRWEB) November 20, 2014
LoungeBuddy, the only single resource for travelers to discover, book and access airport lounges around the world, today announced the release of LoungeBuddy Version 2.0, the first product in history to allow instant airport lounge bookings directly within the LoungeBuddy App. LoungeBuddy, originally launched in September 2013, has quickly grown into one of the top communities for global travelers who have contributed to LoungeBuddy's 25,000+ ratings, reviews and photos of airport lounges.
"When we first launched LoungeBuddy, it was our goal to help travelers to discover their airport oasis," says LoungeBuddy founder and CEO, Tyler Dikman. "With the launch of LoungeBuddy 2.0, all travelers can now instantly book and access these secluded spaces in the airport in less than 60 seconds. In such a tense environment, airport lounges provide an escape, functioning as the last bastion of comfort and tranquility for travelers."
LoungeBuddy 2.0
LoungeBuddy 2.0 represents more than just a significant upgrade to the User Interface, it opens up airport lounges to a wider audience. As a globally-focused product, LoungeBuddy's 2.0 includes hundreds of new frequent flyer elite statuses, lounge memberships, and credit cards issued to travelers around the world. The completely redesigned User Interface for trip creation comes with a number of useful new features including the ability to save trips and to input multi-leg itineraries with multiple carriers. "Our intelligent Lounge Access Wizard working behind the scenes makes it possible for even the most complex itineraries to be saved in LoungeBuddy, helping travelers to find that perfect airport oasis," says Tyler Dikman, CEO of LoungeBuddy.
In-App Lounge Booking
For the first time ever, travelers will be able to use LoungeBuddy to purchase instant airport lounge access from their iPhone and walk into a lounge in less than 60 seconds. No memberships, elite statuses or premium seat purchases are required. Starting today, instant lounge access is available in 13 of the busiest airports in the United Kingdom (including all major London airports). Coming soon, this functionality will be rolled out gradually to other parts of the world, including the United States, Canada, Asia, and Australia.
To make instant lounge bookings a reality, LoungeBuddy has partnered with the world's premier independent lounge operators, Swissport International Lounges and Plaza Premium Lounge Management Limited.
Shaun Weston, Travel Services Director for Swissport, commented "We are delighted to partner with LoungeBuddy and look forward to welcoming LoungeBuddy customers to our lounges. The intuitive app developed by LoungeBuddy now means more travellers can access our lounges where they can expect contemporary surroundings, fantastic facilities and superb customer service."
"As a pioneer and industry leader in providing Premium Airport Services, Plaza Premium Lounge always aims to provide comfort and convenience in our services. We are the first company in the industry to introduce this new mobile booking system to provide travellers a seamless booking experience." said Mr Patrick Kwok, Chief Commercial Officer of Plaza Premium Lounge Management Limited.
About LoungeBuddy
LoungeBuddy™ is the only single resource for travelers to be able to discover, book and access airport lounges around the world. Hundreds of thousands of members use LoungeBuddy to discover their perfect airport oasis and improve their travel experience. LoungeBuddy covers nearly 2,000 airport lounges in almost 600 global airports. The free LoungeBuddy App is available on iOS and Android. To learn more about LoungeBuddy, visit http://www.loungebuddy.com.
According to Henry Harteveldt, founder of Atmosphere Research Group, "LoungeBuddy suits travelers' desire for the emerging trend Atmosphere Research calls "intelligent indulgence." Our research shows that nearly two-thirds of US leisure airline passengers and more than 72% of US business passengers view travel as an opportunity to treat themselves to nicer experiences than what they would normally enjoy when at home. Lounges' elevated levels of customer service and ability to reduce air travel's perceived hassle is also of great appeal. There is a sizable potential market for LoungeBuddy's app - a market that can help airport lounge operators increase their revenues while helping many travelers have a much more pleasant journey."
About Swissport International Ltd.
Swissport International Ltd. is the world´s largest provider of ground and cargo handling services in the aviation industry. The company provides ground services on behalf of some 700 client-companies and handles around 224 million passengers and 3.9 million flights per year. Swissport's global portfolio of owned and operated lounges includes Aspire Lounges, Servisair Lounges, and Swissport Lounges throughout Europe and North America. To learn more, please visit http://www.swissport.com.
About Plaza Premium Lounge Management Limited
Plaza Premium Lounge Management Limited is the management company and shared service provider for Plaza Premium Lounge Network worldwide. With more than 16 years of experience, a results-oriented track record and proprietary knowledge operating and managing the airport lounges, the network is directing expansion plans through multi-location operations in major international airports in the world.
Our lounge is the world's first commercial VIP lounge open to airport users irrespective of airline or class of travel. Headquartered in Hong Kong, we now operate more than 110 locations in 29 international airports – Hong Kong, Beijing, Shanghai (Pudong, Hongqiao), Guangzhou, Macau, Kuala Lumpur, Kota Kinabalu, Kuching, Penang, Langkawi, Johor, Singapore, Sydney (opening December 2014), New Delhi, Hyderabad, Bengaluru, Abu Dhabi, Muscat, Riyadh, Jeddah, Dammam, Madinah, London Heathrow, Toronto, Vancouver, Edmonton and Winnipeg (opening Q1 2015) . As the first airport lounge network to achieve ISO 9001:2008 certification, the company is committed to providing consistently high service quality and continual improvement for valued customers. By putting into action the best ideas and practices from across the network and around the world, it is focused on innovative and quality products and services. To learn more, please visit http://www.plaza-network.com.
MEDIA CONTACTS:
Brent Griffith
VP Marketing at LoungeBuddy
E-mail: brent@loungebuddy.com
Media Assets: http://bit.ly/1t5YM25
Andrew Marston
Marketing & Communications Executive, Swissport
E-mail: andrew.marston@swissport.com
Mei Mei Song
Manager - Corporate PR and Communications Manager at Plaza Premium Lounge Management Limited
E-mail: meimei.song@plaza-network.com