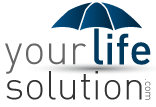 Chicago, IL (PRWEB) November 20, 2014
The founder of YourLifeSolution.com, a service which provides instant online life insurance quotes, has just passed the fifth of eight tests to gain his Chartered Life Underwriter designation. YourLifeSolution.com believes that a CLU designation will help the service branch into more complex financial concepts. "Completion of the designation should take place in about one year. At that point I intend to move the service, YourLifeSolution.com, in the direction of Workman's Compensation planning and various other high-end concepts. If all goes well, I'd like to eventually form a hedge fund," said Eric Smith, the founder of YourLifeSolution.com.
Eric Smith's future plans also involve gaining LUTCF designation and performing a leveraged buy-out of a small life insurance carrier within the next 15 years.
Consumers interested in learning more about their own life insurance options and viewing instant life insurance quotes entirely online are encouraged to visit YourLifeSolution.com. Information can also be obtained by phone at 888.374.2764.