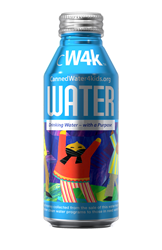 The charity's Founder & CEO Greg Stromberg points out. "Winning the award is special to us. It also helps raise awareness and excitement about our cause."
Chicago, IL (PRWEB) November 20, 2014
501c3 water charity, CannedWater4kids, was awarded the prestigious Best of Show in Beverage World Magazine's 2014 Global Packaging Design Competition.
The group took top honors for it's 16oz aluminum bottle package design. Created by Brand Support 365 Chief Brand Officer, Peter Gorman, the container featured bold, clean graphics and clear messaging. Built around Ball Corporation's innovative
Alumi-Tek® bottle, the infinitely recyclable package delivers fresh spring water with the convenience of a re-closeable cap.
"Entries were judged on a brand's excellence in design, function and engineering. Each of those factors were weighed in deciding this year's winners and the results were a group that hopefully will inspire other brands and designers". In addition, "This year's winners delivered on a beverage package's most important mission: to turn heads", said Beverage World Editor and judge, Andrew Kaplan.
"To be viewed as best from among the many global entries is truly an honor." Said Gorman. "It helps validate that my work is getting noticed and making a difference. I try to incorporate strategy, design and story into every brand solution. It helps capture and communicate a brand's essence. CannedWater4Kids mission is based on hope. The design is a celebration of that anticipation."
It's easy to want to grab a bottle of CannedWater4Kids spring water when you see it on the shelf. "Our logo and package design are fresh, colorful and tell a story of hope for children living without access to clean water and sanitation," the charity's Founder & CEO Greg Stromberg points out. "Winning the award is special to us. It also helps raise awareness and excitement about our cause."
You can purchase the spring water in 16oz aluminum bottles and 12oz aluminum cans by calling CannedWater4Kids at 262-246-8480. The product is perfect for home, boardroom, school or vending machine. "Each bottle we sell helps fund clean safe drinking water for 27 children in Zambia Africa for more than four years," says Stromberg.
About CannedWater4Kids
CannedWater4Kids (CW4K) is a 501c3 charity based in Sussex, WI. The organization's mission is to bring clean, safe water to the children of the world who are currently without. CW4K funds it's initiatives with cash donations and sales of their premium spring water product. 95% of all money collected goes to fund and deliver clean water programs. Efforts include sending water to Japan to aid in their post-earthquake water shortage, assisting the University of Wisconsin – Milwaukee's Engineers Without Borders in bringing water purification solutions to the highlands of Guatemala, supporting of a well/water tank project in Zambia, Africa, and the Bio Sand Filters project in Tanzania. A recent water project in Africa, provides a village of over 400,000 people first-time ongoing access to clean, safe water. CW4K is proud to be part of the Partnership for a Healthier America, Drink UP Initiative. Youarewhatyoudrink.org To learn more, visit cannedwater4kids.org.
About Brand Support 365
Brand Support 365 is a branding and package design consultancy led by Chief Brand Officer, Peter Gorman. Works include award-winning brand solutions for firms like Harley-Davidson, Miller Brewing Co., Pedigree and M&M's to name a few.
About Ball Corporation
Ball Corporation supplies innovative, sustainable packaging solutions for beverage, food and household products customers, as well as aerospace and other technologies and services primarily for the U.S. government. Ball Corporation and its subsidiaries employ 14,500 people worldwide and reported 2013 sales of $8.5 billion. For more information, visit http://www.ball.com