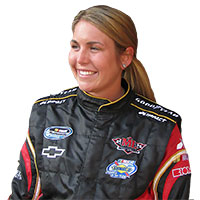 Pensacola, FL (PRWEB) November 21, 2014
Pensacola racing fans are invited to attend a unique event with hometown native and NASCAR driver Johanna Long. Johanna will visit Uncle Bob's Self Storage in Pensacola to meet with fans, sign autographs and even make crowns with young fans.
The meet and greet will take place at the Uncle Bob's Self Storage located at 5060 North Palafox St. in Pensacola, FL 32505.
Make a Crown with Johanna Long
Johanna has made no secret about her love of crowns. Since she's a former Snowball Derby champion and the race is the next day, it only seems right to give fans the opportunity to make championship crowns for Johanna. Uncle Bob's will provide a craft table with supplies to make crowns, and Johanna will swing by to see the creations. She may even make one herself.
"I've always loved crowns, and I appreciate when I get the chance to share that love with others," Johanna said. "I can't wait to see what all the creative boys and girls come up with!"
Autograph Signing
Johanna will sign autographs and greet fans from 6:00pm-8:00pm local time on Tuesday, December 2nd. In addition to the autograph signing and crown making, fans can pose for pictures next to Johanna's car which will be on display.
Also, Lindsey Marie from Nash 102.7 FM will host and broadcast live from the event. She will have prizes to give away to some lucky fans.
"Pensacola loves Johanna Long, and we can't wait to have her and all the racing fans visit us," said Greg Sepulveda, area manager for Uncle Bob's Pensacola storage facilities. "Given all the activities and things to check out, this will be a fun and memorable event."
For more information visit Uncle Bob's online at: UncleBobs.com/long.
About Johanna Long
Johanna Long is a Pensacola born racing driver who currently competes in the NASCAR Nationwide series. She won the 2010 Snowball derby and in 2012 became the youngest female driver ever to compete in the Nationwide series.
About Uncle Bob's Self Storage:
Uncle Bob's Self Storage® is owned by Sovran Self Storage, Inc., (NYSE:SSS) a real estate investment trust (REIT) that acquires and manages self storage facilities. Uncle Bob's is one of the largest self storage companies in the United States with more than 500 storage locations in 25 states. Uncle Bob's currently has nine self storage facilities in the Pensacola area.