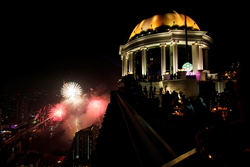 seen for more than a mile across the city, the ball will be 872 feet in the air, making it the most visible icon in Bangkok
Bangkok, Thailand (PRWEB) November 21, 2014
On the 31st of December, The Bangkok Ball Drop at lebua will once again put Thailand's capital on the world map of New Year's Eve celebrations as the 7-foot Bangkok Ball drops 49 feet from above Sirocco, the world's highest alfresco restaurant. Able to be seen for more than a mile across the city, the ball will be 872 feet in the air, making it the most visible icon in Bangkok. For the second consecutive year, the descent of the Bangkok Ball will be the city's first and most memorable sight of 2015 followed by an eye popping fireworks display.
In addition to enjoying the best view of Bangkok's latest New Year's Eve phenomenon, the guests at lebua's four altitude-defying restaurants and bars – Sirocco, Mezzaluna, Breeze and Distil – will be treated to redefined celebratory cuisine and a welcome reception of complimentary champagne with the visionary CEO of lebua Hotels & Resorts, Deepak Ohri.
Each of the restaurants and bars at Tower Club at lebua has announced its exclusive one-night-only New Year's Eve menus. Chef Gonzalo Ruiz at Sirocco, lebua's Mediterranean fine dining venue and the world's highest alfresco restaurant 63 stories up, and Chef Sam Pang at Breeze, the "new face of Asian dining," will offer eight course menus. At Mezzaluna, renowned German twin chefs Thomas and Mathias Sühring will serve a special nine-course European set menu to the soothing strains of the classical quartet. lebua's chic tribute to innovation and style, Distil presents an alternative venue for the celebrations. The bar, which has become known for elevating culinary mixology to a whole new level with new flavors, textures and visuals, will be offering an exceptional eight-course set menu with the same legendary skyline views plus a special guest DJ for the evening.
With its incomparable vantage points, record-breaking Ball Drop, and exceptional menus, New Year's Eve at Tower Club at lebua is not to be missed. The cost of dinner at Sirocco is THB 21,999 (approximately $676 USD); THB 23,999 (approximately $738 USD) at Breeze; THB 25,999 (approximately $800 USD) at Mezzaluna; and THB 17,999 (approximately $553 USD) at Distil. Prices are per person and do not include tax and gratuity. Reservations required in advance. For reservations or more information, please contact reservations(at)lebua(dot)com or +66 2 624 9555.
For a video of last year's ball drop, please visit http://youtu.be/hgl0I44zi_8.
About lebua Hotels & Resorts
lebua Hotels and Resorts is a growing international luxury brand that operates distinctive hotels, fine restaurants and bars. Led by visionary CEO Deepak Ohri, Bangkok-based lebua takes a unique approach to hospitality that aspires to tap into a deeper level of exchange with guests to create emotional connections. lebua's award-wining lodging collection includes Bangkok's best-performing luxury hotels (Tower Club at lebua and lebua at State Tower), three boutique hotels in India (Devi Garh by lebua, Udaipur; lebua Resort, Jaipur; and lebua Lodge at Amer, Jaipur), and an exclusive property in New Zealand (Lake Okareka Lodge by lebua). The Dome at lebua, the group's collection of restaurants and bars atop its Bangkok hotels, include Sirocco, the world's highest open air restaurant, designated '2011-2013: HAPA Restaurant of the Year' by the Hospitality Asia Platinum Awards; Sky Bar, named "the most stunning rooftop bar you'll ever see" by The New York Times in 2013; Breeze, highlighted by USA Today as one of the world's "10 most cutting-edge restaurants" in 2014; and Mezzaluna, honored as a 'Foodie Top 100' fine-dining mecca in 2013. lebua is expanding its dining concepts to Europe through a strategic partnership with Steigenberger Hotel Group, starting with the 2015 opening of Breeze in Frankfurt at Steigenberger Frankfurter Hof, and is exploring hotel management contracts in city and resort destinations worldwide.
For more information, visit http://www.lebua.com or http://www.facebook.com/lebua, or follow @lebuahotels on Twitter or @lebuaHotelsResorts on Instagram.