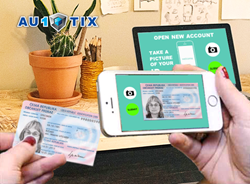 With best of breed automation such as the AU10TIX BOS solution we stand ahead of the game in depth, accuracy and speed of our online KYC services.
Nicosia, Cyprus (PRWEB) November 24, 2014
AU10TIX BOS enables InfoCedit Group to offer its clients the highest standard of online ID fraud protection and KYC compliance available today. AU10TIX BOS replaces and augments manual examination and data entry with a seconds-fast, fully automated process of document image auto-recognition, content extraction and 3-way authentication. No data entry is required from customers, who need simply send an image of their ID document taken with a common device such as smartphone camera, tablet camera or home scanner. AU10TIX BOS can handle a wide range of international and local government issued ID documents. By virtue of its seconds-fast response, AU10TIX BOS enables effective handling of any issues in almost real-time, while customers are still within the process..
"We have become the preferred service provider for so many clients in so many markets because we insist on delivering top value and on innovation," says Mr Theodoros Kringou, Managing Director of Infocredit Group. "With best of breed automation such as the AU10TIX BOS solution we stand ahead of the game in depth, accuracy and speed of our online KYC services. We know that our customers do not want to compromise on best KYC practices but at the same time have streamlined, speedy customer processing. AU10TIX BOS has this winning combination. It will enhance our capacity to deliver a winning service on a global scale."
"We are proud to have AU10TIX BOS selected by InfoCredit Group as their solution of record for online ID authentication and processing," says Ron Atzmon, Managing Director of AU10TIX. "The KYC regulated market and its service providers embrace the AU10TIX BOS solution. They do so because it is proven better than any alternative. BOS is better for good reason: It is built differently, incorporating latest machine-learning-enhanced image processing and decision analytics algorithms. BOS works more accurately, much faster, and is more tolerant to sub-optimal image qualities. Clients of InfoCredit Group can benefit from the deepest fraud detection technology, more accurate record generation and from speedy reaction times."
"The age of OCR-based online ID authentication is over," says Ofer Friedman, VP Marketing of AU10TIX. "That standard will not be acceptable much longer. The new standard is 3-way authentication which includes image forgery forensics and even file meta-data leveraging. Also the days of "ID template matching" are numbered. Customers may submit images at any conceivable quality and even irrelevant ones. Today's technologies should be able to manage challenging image qualities. That is exactly what AU10TIX BOS is all about. We are glad to work with InfoCredit Group. They were quick to recognize the value and the difference. InfoCredit Group now has a serious competitive edge and compelling added values to offer their clients."
About InfoCredit Group
Infocredit Group is a global provider of credit and business information products and services for over 40 years. Infocredit Group successfully combines experience and knowledge with enthusiasm, fresh ideas and pioneering attitudes. With pertinent location, dynamic team and innovative solutions Infocredit Group provides clients with reliable and relevant business information products on a worldwide basis. Infocredit Group's local presence allows it to have a better understanding of the local laws, languages, customs, culture, economy and commercial parameters, allowing us to provide reports with valuable distinct characteristics. The extensive network of researchers across four continents allows Infocredit Group to service both B2B and end users across a variety of industries.
For more information, visit http://www.infocreditgroup.com
About AU10TIX
AU10TIX Limited, a fully owned subsidiary of ICTS International N.V, deals with the authentication and digitization of identifying documents including Passports, identity cards, driving licenses and other complementary identifying documents. The company specializes in implementing hardware & software based applications used for scanning, identifying, content retrieval, authentication and validation of identifying documents. AU10TIX is a pioneer of all-channel (front-end and online) ID authentication and processing solutions. The company's products drastically reduce identifying document-based fraud, reducing the costs associated with client processing and enabling effective regulatory compliance, while making the sales and support operations speedier and considerably more efficient.
For more information, visit http://www.au10tix.com
About ICTS International N.V.
ICTS specializes in the development and implementation of innovative security concepts and solutions designed to meet the needs of a variety of industries, mainly aviation transportation, border control and sensitive facilities. ICTS International benefits from over two decades of expertise and international operational experience in transportation security, with a particular emphasis on high-risk environments, passenger processing transactions and the integration of security services to provide a comprehensive security solution. It also offers a wide variety of customized training programs, tailored procedures and a wide range of security consulting services. The company has developed and implemented unique technological solutions, based on its comprehensive approach to security, designed to enhance the level of security while accelerating the security check process.
For more information, visit http://www.icts-int.com
This press release contains "forward-looking statements" within the meaning of the Private Securities Litigation Reform Act of 1995, regarding the Company's business strategy and future plans of operations. Forward-looking statements involve known and unknown risks and uncertainties, both general and specific to the matters discussed in this press release. These and other important factors, including those mentioned in various Securities and Exchange Commission filings made periodically by the Company, may cause the Company's actual results and performance to differ materially from the future results and performance expressed in or implied by such forward-looking statements. The forward-looking statements contained in this press release speak only as of the date hereof and the Company expressly disclaims any obligation to provide public updates, revisions or amendments to any forward-looking statements made herein to reflect changes in the Company's expectations or future events.
Contact:
Infocredit Group
Nicos Ioannou, Business Development Director
Email: nkafandari(at)infocredigroup(dot)com
Tel.: +357-22-398236
AU10TIX
Ofer Friedman, VP Marketing
Email: ofer.friedman(at)au10tix(dot)com
Tel.: +972-50-4 71 71 50
ICTS International NV
Alon Raich
Email: mail(at)ictsinternational(dot)com
Tel.: + 972-974-47770