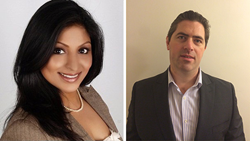 M3 has quickly grown to be a global market leader in Quality Quantitative and Qualitative Healthcare Research. Promoting executives from within allows us to grow while maintaining the service, quality and trust our clients expect." Craig Overpeck, COO
Washington, DC; London, UK (PRWEB) November 21, 2014
M3 Global Research, a market leader with the world's only ISO verified healthcare professional panel, today announced two important leadership changes to help accelerate the company's global growth: the appointment of Roni DasGupta as President of Market Research, Americas and the promotion of Anton Richter as Managing Director of Market Research, Europe.
Ms. DasGupta joined M3 in 2011 and has held the position of Senior Vice President and most recently Head of Sales. Roni has over 17 years of experience in market research and was recently inducted into the PMRG Circle of Excellence for her work creating PMR Charities to raise funds for St Jude's Children's Research Hospital. She also sits on the Board of Ethics Committee for EphMRA.
Mr. Richter joined M3 in 2014 and has held the position of Business Development Director and most recently Head of Sales. Anton has over 15 years of experience in market research and has been actively presenting papers on respondent engagement in the EU and Japan with talks presented at EphMRA's Annual Conference and Tokyo Chapter meetings.
"M3 has quickly grown to be a global market leader in Quality Quantitative and Qualitative Healthcare Research. Promoting executives from within allows us to grow while maintaining the service, quality, and trust our clients have grown to expect from M3," remarked Craig Overpeck, COO M3 Global Research, who was recently elected to another term to the CASRO Board of Directors.
M3 Global Research is the only healthcare panel in the world ISO certified to the market research standard ISO26362.
About M3 Group
The M3 Group operates in the US, Asia, and Europe with over 2.5 million physician members globally via its physician websites such as m3.com, mdlinx.com, research.m3.com , doctors.net.uk, medlive.cn and medigate.net . M3 Inc. is a publicly traded company on the Tokyo Stock Exchange (JP:2413) with subsidiaries in major markets including USA, UK, Japan, S. Korea, and China. M3 Group provides services to healthcare and the life science industry. In addition to market research, these services include medical education, ethical drug promotion, clinical development, job recruitment, and clinic appointment services. M3 has offices in Tokyo, Beijing, Seoul, Washington D.C., Fort Washington, Rochester, San Mateo, St Louis, Oxford, and London.
M3 Group Featured Sites
mdlinx.com networksinhealth.com thesmartestdoc.com research.m3.com