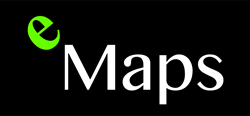 Fairfield, NJ (PRWEB) November 21, 2014
Vision-e announced today the availability of eMaps on the Salesforce AppExchange, the world's leading business app exchange. eMaps is a business application that saves sales reps hours of daily preparation by plotting Salesforce data on a mobile, Google powered map. eMaps allows companies to map custom objects, which helps businesses who have strategically customized their Salesforce CRM be more efficient.
With eMaps, users can quickly visualize their customer data with web-based, interactive maps on their phone. Additionally, it helps reps plan out their sales visits for the day and then quickly receive route-optimized directions all behind the wheel of their car. eMaps even allows for users to make edits on individual customer accounts, right from their mobile device.
The ability to plot customized data on a map allows a wide spectrum of Salesforce users to adopt eMaps. eMaps offers efficiency features like street view, real-time traffic and territory management options. It is available on iPhone, iPad and Android phones and tablets. For more information, visit http://www.Visione.com/apps.
Comments on the News
According to an article by Frank V. Cespedes in the Harvard Business Review, continuous and focused strategy into businesses customer data can increase sales productivity. This "deep dive" into customer data can help reps know "exactly what criteria to use to maximize productivity," said Cespedes.
As a sales productivity application, eMaps helps to encourage this approach. By visualizing their customer data with eMaps, sales representatives now have a customizable tool that puts their leads, contacts and customers information at their tip of their fingertips.
Product Key Features
eMaps for Salesforce1 includes the Vision-e Complete Customer Care Package, which provides clients with complimentary assistance from the U.S. based Vision-e team, led by Certified Cloud Consultants, to help with app set up, training, and use.
About the AppExchange:
The Salesforce AppExchange is the world's leading business apps marketplace. With more than 1,900 partner apps and 1.8 million customer installs it is the most comprehensive source of social and mobile cloud apps for business. The Salesforce Platform is the world's most trusted and comprehensive cloud platform for building social and mobile cloud apps, powering Salesforce CRM, and more than 3 million custom apps built by customers and partners. Apps built on the Salesforce Platform can be easily distributed and marketed through salesforce.com's AppExchange.
Salesforce, AppExchange and others are among the trademarks of salesforce.com, inc.
About Vision-e
Vision-e is a premier provider of salesforce.com solutions. Vision-e helps businesses of all sizes and budgets streamline their Salesforce organization and become more productive, efficient and profitable. Vision-e goes beyond consulting—it was founded by sales professionals who believe customers come first, no matter what.
"Vision-e provides elegant, highly customizable solutions that help companies of all sizes get the most out of the Salesforce platform. Vision-e: it's Salesforce…extraordinary." Jule Limoli, CEO, Vision-e.
From one-of-a-kind business productivity applications to customized services from certified Salesforce Administrators, Vision-e drives the ROI clients want and expect from their Salesforce investment. Vision-e is… Customer Everything.
For more, go to http://www.Visione.com or call 1.888.611.2679. Vision-e is headquartered in Fairfield, NJ.
###