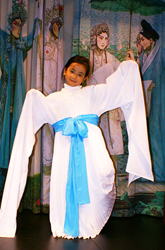 We must give children and families opportunities to learn and appreciate other cultures.
BOSTON, MA (PRWEB) November 24, 2014
Boston Children's Museum recently opened Children of Hangzhou: Connecting with China, an exhibition designed to engage children and families in learning about one of the oldest civilizations – and now among the most modern – in the world through some of its young people.
Children of Hangzhou: Connecting with China was created by Boston Children's Museum and is part of the Freeman Foundation Asian Culture Exhibit Series, funded by The Freeman Foundation and administered by Association of Children's Museums. The Museum recently launched the accompanying "The League of Extraordinary Bloggers" – A game for exploring Asian Cultures to complement five children's museum traveling exhibits. The App can be downloaded at http://www.LXBGame.com
China has become a global power. Global transportation and telecommunications have facilitated the fast flow of goods, services and ideas around the world. But now visitors can get behind the glare of the headlines. Children of Hangzhou is devoted to expanding knowledge, understanding and appreciation of contemporary China through life in Boston's Sister City, Hangzhou. In distinctively Chinese settings, visitors will "meet" children with different interests and in different environments and learn what makes them tick. The exhibit will dispel stereotypes and demystify China.
"There is more travel, commerce, communication. Yet, news coverage of China does not reveal the inside lives of young people in China," said Leslie Swartz, Senior VP Boston Children's Museum. "We must give children and families opportunities to learn and appreciate other cultures. These are skills everyone needs for now and for life."
Children of Hangzhou: Connecting with China presents four children from Hangzhou at home, at school, in the theater, and in the countryside. The Hangzhou young people will introduce themselves through media and the activities of their daily lives. Museum visitors will discover that Chinese life today mixes ancient traditions with modern lifestyles and that life in China is both similar to and different from life in North America. The young Chinese in the exhibit will be a bridge to learning about China and building cross-cultural understanding. The exhibit features original artwork created to present a unique Chinese aesthetic that delivers an immediate and unmistakable impression: You are in Hangzhou, China.
The exhibition is organized into several components, each with media diaries about the kids and about Hangzhou. Visitors will meet these kids in the exhibit:
Visit Weicheng's apartment
Find out about the importance of family and help celebrate grandma's birthday
Discover the art of symbols in China
Learn how to write good luck and long life in Chinese
See how the Chinese prepare their favorite recipes
Enjoy seeing all the yummy parts of a Chinese banquet
Visit Gangzheng's middle school
Find out what his school day is like
Join the class in studying Ancient Chinese history
Learn about the amazing Great Wall, with original blocks for building it.
See how the Chinese written language evolved over thousands of years.
Visit the Opera Theater where Qianyun is learning to perform traditional Chinese opera
Pluck the pipa (lute like instrument) and hear how it sounds
Play the yangqin with tiny hammers – just like a dulcimer and hear how it sounds
With great costumes, scripts to follow, and terrific music, it's Showtime!
Go out to the countryside with Doudou
Discover life in the countryside while visiting grandparents
Help them with rice planting and learn about rice cultivation
Learn crafts from grandma.
Find out about the importance of the ancestral village.
Check out the friendly lifelike water buffalo!
The iconic centerpiece of the exhibit is a Pavilion in West Lake. See how Hangzhou is like "heaven on earth". In the Pavilion, visitors can practice Tai Chi with a master and play traditional Chinese games
Boston Children's Museum will host a Chinese festival and events. For a complete calendar listing, please visit http://www.BostonChildrensMuseum.org
Children of Hangzhou: Connecting with China will be at Boston Children's Museum through April 26, 2015 before embarking on a three-year, 8-city U.S and Canada tour.
About Boston Children's Museum
Boston Children's Museum engages children and families in joyful discovery experiences that instill an appreciation of our world, develop foundational skills, and spark a lifelong love of learning. More information about Boston Children's Museum can be found at http://www.BostonChildrensMuseum.org.
About The Freeman Foundation:
The Freeman Foundation was established in 1993 by Mansfield Freeman. This private foundation is committed to increasing and strengthening the understanding of nations in East Asia.
About Association of Children's Museums (ACM)
In an increasingly complex world, children's museums provide a place where all kids can learn through play and exploration with the caring adults in their lives. There are approximately 400 children's museums around the world, which annually reach more than thirty-one million visitors. ACM provides leadership, professional development, advocacy, and resources for its member organizations and individuals. To learn more about ACM and to find an ACM-member children's museum near you, visit http://www.ChildrensMuseums.org.