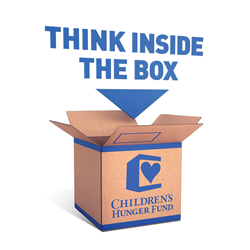 "Think Inside the Box is a year-long initiative challenging corporations, individuals, and churches to raise 25 million meals for suffering children and families here in the United States and around the world," - Dave Phillips
Los Angeles, CA (PRWEB) November 24, 2014
Since 1991, Children's Hunger Fund has been breaking the mold of charitable organizations with its unprecedented commitment to high efficiency and unique distribution model. In light of its continued growth, the children's charity has announced its upcoming 2015 campaign, Think Inside the Box, which points to a Food Pak box, their primary method of distributing food to hungry children.
"Think Inside the Box is a year-long initiative challenging corporations, individuals, and churches to raise 25 million meals for suffering children and families here in the United States and around the world," says Dave Phillips, President and Founder of Children's Hunger Fund.
With its unique and effective distribution model, CHF is able to provide 1 meal to a child for just 25 cents. Throughout 2015, the charity hopes to raise 25 million meals through grassroots fundraising efforts. All funds raised in conjunction with this campaign will be used to provide meals for CHF's Food Pak program, which is a 20 lb. box of food containing approximately 48 meals, hand delivered to the home of a needy family.
Children's Hunger Fund's mission is to deliver hope to suffering children and families around the world by equipping local churches with the training and resources needed to impact their communities, physically and spiritually. The organization collects, packs, and distributes food and various resources through churches across America and around the world. Trained volunteers are then able to use the resources in order to deliver help and hope to the needy in their communities.
The initiative, Think Inside the Box, seeks not only to strengthen the bond that Children's Hunger Fund has with existing supporters and donors, but also reach out nationally to those who have not heard of their work and invite them in to be a part of the movement to deliver hope. Corporate partners, churches, NGO's, schools, families, public servants, athletes, celebrities, and everyday individuals are all enthusiastically invited to come along side Children's Hunger Fund and raise 25 million meals to distribute domestically and internationally to people in need.
Children's Hunger Fund has committed itself to gospel-centered mercy ministry for over twenty years. In all, CHF has distributed more than 1 billion dollars in food and other resources, serving the needs of more than 20 million children throughout the U.S. and in seventy-two countries worldwide. Since 1991, 99% of CHF's total revenue has been used for programs helping kids.