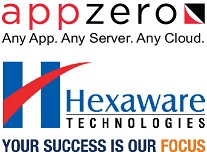 With AppZero, we can quickly assess the readiness of existing applications for migration and migrate those applications in record time. - N Nataraj, Global CIO, Hexaware Technologies LTD
Andover, MA (PRWEB) November 25, 2014
Top cloud innovator AppZero announced that Hexaware Technologies, a leading global provider of IT, BPO and consulting services, has joined the AppZero Partner Program as a Gold Partner and will collaborate with AppZero to help organizations move server applications to and across any cloud or datacenter.
With global delivery centers in North America, Europe, and Asia-Pacific regions and nearly 10,000 employees, Hexaware has, since 1990, been providing cutting edge solutions to its customers across the globe. Equipped with ready business accelerators and best practices, Hexaware has been assisting global organizations in their transformational journey by giving them better predictability over IT expenditure, simplified planning and reduced costs to help them gain a lead in the market.
AppZero makes it fast and easy to move server applications to and from any machine, anywhere -- data centers, customer premises, and clouds. Enterprises are using AppZero to:

"Up-level" applications from an operating system reaching end of support, such as Windows Server 2003.
Perform fast and easy cloud on-boarding of enterprise Windows server applications
Move server applications between servers in private, hybrid, or federated clouds
Enable ISVs to deliver applications pre-installed and pre-configured for instant proof-of-concepts and implementations
According to N Nataraj, Global CIO, Hexaware Technologies Limited, "AppZero provides a critical tool for our Cloud Application Development and Migration Services business as we help our customers solve the challenges around upgrading their infrastructure off WS 2003 and reduce the time it takes to move applications to new servers or the cloud. With AppZero, we can quickly assess the readiness of existing applications for migration and migrate those applications in record time."
AppZero CEO Greg O'Connor adds, "Hexaware has a large pool of migration experts and a long track record of achieving cost reductions for their customers as they transition to newer operating systems and the cloud. We're pleased to be working together to help enterprises quickly migrate their applications to the modern infrastructure that works best for their business."
AppZero partners combine cutting edge products and services that open up the business potential of the cloud. For more information, or to participate in the partner program contact: partners(at)appzero(dot)com.
About AppZero:
AppZero is the fastest, most flexible way to move server applications to and across any cloud or datacenter, without code change or lock-in. Encapsulating Windows applications in VM/OS-free packages, AppZero's patented software moves complex server applications with ease. AppZero allows you to move from an old OS to a newer one, with the click of a button - modernize and move to the cloud in one step.
About Hexaware
Hexaware is a leading global provider of IT & BPO and consulting services. The Company focuses on key domains such as Banking, Financial Services, Insurance, Travel, Transportation, Logistics, Manufacturing, Consumer and Healthcare. Our business philosophy, "Your Success is Our Focus", is demonstrated through the success we ensure for our clients. Hexaware focuses on delivering business results and leveraging technology solutions by specializing in Business Intelligence & Analytics, Enterprise Solutions, Quality Assurance and Testing Services, Remote Infrastructure Management Services and Business Process Services. Founded in 1990, Hexaware has a well-established global delivery model armed with proven proprietary tools and methodologies, skilled human capital and SEI CMMI-Level 5 certification. For additional information logon to http://www.hexaware.com.