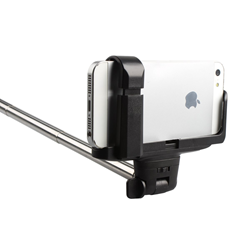 Perfect gift to give or receive.... Great product to bring on trips!
Manhattan, New York (PRWEB) November 23, 2014
MiniSuit, one of the world's largest electronic accessory distributors, has just released the "Selfie Stick Pro," offering smartphone users a convenient way to take digital self-photography. The Selfie Stick Pro features an adjustable 2-3.5 inch cradle affixed to the end of a retractable pole. The cradle is large enough to accommodate some of the most popular smartphone brands such as Apple's iPhone 6, Samsung Galaxy, and even the GoPro.
The thing that sets this product apart from its competitors–and previous models–is that it includes a built-in Bluetooth shutter on the handle rather than including a separate remote control; now users can easily take pictures without worrying about carrying around one more piece of equipment. Built-in Bluetooth capabilities are compatible with iPhone iOS 4.0+ and Android 3.0+ operating systems; however, despite the ability to cradle the GoPro and a similarly sized camera, the built-in Bluetooth feature will not work with GoPro, or non-Apple/Android operating systems.
The Selfie Stick Pro weighs just 0.3 pounds (4.75 ounces) and can extend as far as 3.5 feet rom the base of the handle. Directly below the adjustable handle sits an 180º ball-head-and-thumb screw lock, which allows the camera to be rotated and tilted to achieve the perfect angle.
Selfie Stick Pro is for sale on Amazon and at various retail merchants starting at $19.95 with free shipping. The Selfie Stick Pro has thus far received rave reviews from customers and has become one of the highest rated "selfie sticks" on the Amazon marketplace.