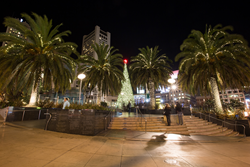 San Francisco, CA (PRWEB) November 21, 2014
San Francisco is a city aglow during the holiday season, with decorations and activities that add to the city's natural scenic beauty and magical atmosphere. Here are some highlights of the lights, sights and decorations in the City by the Bay.
Salvation Army Celebrity Bell Ringing
Through Dec. 24, 2014
Hang out and rock on at Union Square with some of San Francisco's finest celebrities, media personalities, costumed characters, local bands and many others as they ring bells and raise funds for the Salvation Army programs in San Francisco.
http://app.volunteer2.com/Public/Organization/1316ab75-0cbf-4e58-8b14-6164f2fee2ce/2
Snowflakes on Market
The Path of Gold lights that run the length of Market Street from Steuart to Castro streets were originally installed in 1916 and cast a distinctive amber glow on one of the city's main thoroughfares. This year 36 new snowflakes were added bringing the total to 238 on 119 lampposts stretching from First to Eighth streets. Additional snowflakes are to be added in years to come. The snowflakes will be lit through the end of the year.
http://www.marketstreetassociation.org/index.php?p=news&newsId=122
Nutcracker Under the Dome at Westfield San Francisco Centre
Nov. 20, 2014 – Dec. 31, 2014
Free light spectaculars nightly, every half hour from 5 p.m. until the mall closes.
Westfield San Francisco Centre's iconic dome comes to life each evening with a one-of-a-kind animated 3D light spectacular. This holiday season, San Francisco Ballet's Nutcracker is the inspiration for this extraordinary visual experience crafted by local technology innovators, Obscura Digital.
http://www.westfield.com/sanfrancisco/nutcracker/
Embarcadero Lighting Celebration & Ice Rink
Through Jan. 4, 2015 Ice Rink Open
Nov. 21, 2014, 4:00 p.m. - 8:00 p.m. Lighting Celebration
Embarcadero Center is brightening the holidays this year with the 28th Annual Building Lighting Ceremony & Carnival. A perfect event to share with the family, the festival will kick off at 4 p.m. with a host of fun activities including carnival games, face painting, a visit from Santa and Mrs. Claus, cookie decorating, interactive arts and crafts booths, balloon twisters, musical performances, a special appearance by Mickey Mouse and more. Delighting families, couples and ice-skating enthusiasts for more than 25 years, the Holiday Ice Rink at Embarcadero Center opens each winter for nine fun-filled weeks. Get ready to skate under the sun and stars along the beautiful waterfront at the largest outdoor rink in San Francisco.
http://embarcaderocenter.com/event/building-lighting-2014/
Hyatt Regency Tree and Interior Lobby Lighting
Nov. 21, 2014, 7-7:30 p.m. Five Embarcadero Center
The evening will be filled with free music and entertainment from Glide Memorial Choir, Meshuga Nutcracker and the Young People's Symphony Orchestra Brass Section as well as guaranteed snowfall and the initial lighting of the hotel's interior with more than 300,000 cascading lights.
sanfranciscoregency.hyatt.com
PIER 39 Tree Lighting
Nov. 22 and 23, 2014 at Pier 39
Join Pier 39's special friends from the Disneyland Resort at the annual PIER 39 Tree Lighting Celebration. Sing songs, give hugs to Disneyland friends and welcome the holiday season with two days of holly-jolly magic and merriment for the whole family. The fun culminates at 6 p.m. each night as PIER 39's majestic 60-foot tree, adorned with glistening ornaments, bows and twinkling lights is illuminated against a stunning backdrop of the San Francisco city skyline.
http://www.pier39.com/home/events/pier-39s-tree-lighting-celebration
Hyatt Regency Snow Village Display and Daily Snowfall
Nov. 22 - Dec. 30, 2014, Five Embarcadero Center
Open 24 hours a day and free to the public, Hyatt Regency San Francisco will continue its holiday tradition with an engaging and interactive snowfall display in its atrium lobby throughout the holiday season. Complementing the dramatic lights, over-the-top interior décor and 30-foot tree, snow will fall daily. Snow times are as follows: Weekends (Sat. and Sun.) at 10:30 a.m., 12:30 p.m., 4:30 p.m. and 6:30 p.m. and on weekdays (Mon.-Fri.) at 4:30 p.m. and 6:30 p.m. Back by popular demand, the legendary Snow Village will be on display in the hotel's lobby Nov. 22-Dec. 30. The 2014 display encompasses more than 1,000 pieces, ranging from traditional holiday-inspired collectibles to entertaining motion-oriented exhibits.
sanfranciscoregency.hyatt.com
St. Francis Sugar Tree at Westin St. Francis vs. Holiday Sugar Castle at Westin St. Francis
Nov. 26, 2014 - Jan. 2, 2015, at 335 Powell St.
Executive Pastry Chef Jean-Francois Houdré and his team will unveil the never-before-seen "St. Francis Sugar Tree" in the hotel's Landmark Lobby. This magnificent 12-foot-tall tree features more than 1,000 pieces of glistening candy made from pulled and blown sugar. Rows and rows of intricately handmade snowman, sugar ribbons, gift boxes, Christmas trees, candy canes, elves, stars and ornaments will adorn this rotating tree. Chef Houdré and his team will offer a delicious selection of freshly baked decorative cookies, brownies, gingerbread men and rice crispy treats available for purchase at the new St. Francis Sweet Shop, adjacent to the lobby.
http://www.westinstfrancis.com/holiday-events
Macy's Great Tree Lighting
Nov. 28, 2014, 6 p.m. in Union Square, bordered by Sutter, Post, Geary and Stockton streets
In the San Francisco holiday tradition, Macy's once again presents its gift to the city—a beautiful, reusable 83-foot tree decorated with more than 33,000 twinkling energy-efficient LED lights and 1,100 shining ornaments—during the 25th Annual Great Tree Lighting Ceremony in Union Square Park, across from Macy's.
http://www.unionsquareshop.com/TreeLightingUnionSquare.html
Bill Graham Menorah Lighting at Union Square
Nov. 28, 2014, 6-8 p.m. in Union Square
A local miracle happened in San Francisco in 1975 when community leaders joined together to create the first big menorah public celebration of Chanukah outside of Israel. Today that spark of innovation has spread to annual Chanukah celebrations in more than 500 cities worldwide including; Berlin, Paris, Buenos Aires, Brisbane and Ho Chi Minh City. In San Francisco the legacy of innovation to spread the light continues.
http://www.visitunionsquaresf.com/events
50th Annual Ghirardelli Square Tree Lighting Ceremony
Nov. 28, 2014, 4-9 p.m., tree lighting at 5:30 p.m. at Ghirardelli Square, bordered by North Point, Beach, Polk and Larkin streets
This year marks the 50th annual Tree Lighting Ceremony in Ghirardelli Square (est. 1964), continuing the holiday tradition at the center of this historic San Francisco landmark. Festivities will include live music, children's entertainment and a visit from Santa.
http://www.ghirardellisq.com/events/
Winter Walk SF: Open Plaza & Spectacular New Holiday Light Art Show
Nov. 28, 2014 – Jan. 1, 2015, Stockton St. between Geary and Ellis streets
Union Square, San Francisco Mayor Edwin M. Lee and the Central Subway Team are creating an inviting, open plaza on Stockton Street. between Geary and Ellis streets to celebrate the holidays in a with a stunning light art show by Immersive SF, regular live performances, food trucks and other holiday merriment. Visitors will find an inviting, open space and daily events and celebrations. Glowing seating, artificial turf and warm lighting will create a welcoming atmosphere for locals and visitors to enjoy. Each night a spectacular light art show will be projected on the Macy's Men's Building in which Jack Frost has adventures in San Francisco and spreads festive icicles throughout the city. It will be projected nightly from 5 pm to midnight, Dec. 1 - Jan. 1. Off the Grid will provide a diverse selection of lunch and dinner options through their collection of top food trucks. Trucks will be present every other day of the week (11 a.m.-2 p.m., Mon., Wed., Fri. and Sun. and 5-8 p.m. on Mon., Fri. and Sun.), as well as three special night events with live music (6-8 p.m. on Dec. 3, 10 and 17) and a Christmas Eve lunch party (Dec. 24, 12-4 p.m.).
http://www.visitunionsquaresf.com
Fairmont San Francisco's Giant Gingerbread House
Nov. 29, 2014 - Jan. 1, 2015, at 950 Mason St.
For more than a century, the Fairmont San Francisco has enchanted guests with its joyful holiday festivities and exuberant seasonal ambience. Once again, the Fairmont elves are working overtime to create a hotel display like no other. Starting Nov. 29, the hotel lobby transforms into one of the world's most beloved holiday destinations, where cherished memories for locals and visitors alike are created. The highlight of this awe inspiring exhibit will be the two-story giant Gingerbread House in the hotel's Grand lobby. Lovingly built with a completely edible exterior, this delectable abode will be unveiled during a ribbon cutting ceremony at the annual Gingerbread Open House on Sat., Nov. 29, at 11 am-3 pm. The event offers guests the opportunity to enjoy complimentary holiday refreshments and heart-warming music while Santa Claus, a Balloon Elf and a Christmas Fairy pose for photos. Kids can also write letters to Saint Nick in the lobby's "North Pole Nook" all season long (Fairmont guarantees speedy delivery to the North Pole). Friends of Fido will delight in the pet-friendly hotel's Gingerbread Doghouse, located right next to the North Pole Nook.
Palace Hotel Grand Gingerbread Display and Giant Snow Globes
Dec. 1 – 31, 2014, 2 New Montgomery St.
Executive Pastry Chef Renee Cade brings a favorite childhood keepsake to life with two giant snow globes on display in the hotel lobby. The largest snow globe measures 6 feet tall by 3½ feet wide and features a moving gingerbread carousel inspired by the Maxfield Parrish Pied Piper of Hamelin painting created for the Palace in 1909. Carousel animals include an elephant, polar bear, reindeer and dove. The second snow globe measures 2 feet tall by 1½ feet wide. The holiday scene shows a gingerbread family arriving in the beautiful city by the bay. The group of four is dressed in festive finery and carrying candy suitcases. Each snow globe scene is made entirely of gingerbread, royal icing, sugar sprinkles, candy and chocolate. An 8 foot by 16 foot, deliciously detailed gingerbread house is also on display.
http://www.sfpalace.com
555 California Holiday Tree Lighting
Dec. 3, 2014, 5 p.m. at 555 California St.
This Holiday Tree Lighting has become a premier event in San Francisco and continues to grow, bringing a fresh holiday spirit to the entire Bay Area.
http://www.555treelighting.com
SFO Holiday Lighting Celebration
Dec. 3, 2014, 5 p.m.
San Francisco International Airport (SFO) will again be illuminating the Airport exterior in festive holiday lighting. This year's arrangement features innovative new LED lighting, and a handcrafted replica of the Golden Gate Bridge. A ceremony, open to media and the public, will be held on Wednesday, December 3rd at 5:00pm to turn on the holiday lighting. The event will be held on the connecting bridge between Garages "A" and "G." Pedestrian access is available from Level 3 of Garage "G".
http://www.flysfo.com/
Ritz Carlton Holiday Tree Lighting Ceremony
Dec. 4, 2014, 5:30 -7:30 p.m.
The holiday season begins when the 40-foot holiday tree of The Ritz-Carlton, San Francisco is illuminated by Santa Claus and his little helper from Make-A-Wish ® Greater Bay Area. Hosted by veteran Bay Area TV anchor Tom Sinkovitz, this annual tree lighting ceremony begins with Dickens-era costumed carolers performing holiday favorites throughout the hotel while guests and locals enjoy cider, hot chocolate and cookies. After the ceremony, children are invited to take photos and visit with Santa in the Terrace Room.
http://www.ritzcarlton.com/en/Properties/SanFrancisco/Information/Calendar/Default.htm
Civic Center's Holiday Lights & Fanfare
Dec. 5, 2014
The Civic Center Community Benefit District is bringing holiday cheer to the neighborhood by presenting its inaugural musical event - "Holiday Lights and Fanfare."
http://sfciviccenter.org/
Tower Tours' Holiday Evening Tour
Dec. 5, 2014 Fridays and Saturdays
Join Tower Tours on a festive holiday lights journey through the twinkling neighborhoods of the City by the Bay. Hop aboard an enclosed luxury coach with warmth and style and be delighted by some of the most glittering holiday displays in San Francisco. The three-hour journey begins at 6 p.m. at Ghirardelli Square and includes Cow Hollow, the Palace of Fine Arts, the Golden Gate Bridge, Union Square's holiday displays, City Hall and a trip to Treasure Island with dramatic view of The Bay Lights. Available Fridays and Saturdays in December.
http://www.towertours.com
Union Street Fantasy of Lights
Dec. 6, 2014, 3-7 p.m. on Union Street between Van Ness and Steiner streets, and Fillmore Street from Union to Lombard streets.
No holiday lights listing would be complete without San Francisco's Union Street Fantasy of Lights event. The annual Union Street holiday program kicks off a month-long celebration of holiday happenings in the city. Thousands of holiday lights set off the Victorians, transforming Union Street into a magical backdrop for Santa and a team of elves to celebrate along with jugglers, live ponies dressed as reindeer, face painters, balloon artists, costumed characters, singers and live entertainment.
http://sresproductions.com/fantasy_of_lights.html
12 Annual Parol Lantern Festival & Parade
Dec. 13, 2014 at 5 p.m. at Jessie Square, Mission Street and Yerba Buena Lane
Celebrate in festive Filipino style at the annual Parol Lantern Festival & Parade where you can watch traditional, star-shaped Filipino Christmas lanterns called parols being carried along Yerba Buena Lane, along with live music, art, games and performances.
http://kularts.org/wp/kularts-presents/parol-festival/
Holiday Lights Tour with Big Bus Tours
Dec. 15 - 28, 2014
Ring in the holiday season with Big Bus Tours' holiday lights tour aboard an open top double decker bus. See San Francisco's festive holiday trees, trimmings and twinkling lights decorating the city for the winter season. Also enjoy a complimentary warm beverage, treats and jovial jingles. Tours begin at 6:30, 7 and 7:30 p.m. at Big Bus Tours, 99 Jefferson St.
http://www.bigbustours.com
Light the Menorah at Ghirardelli Square
Dec. 16, 2014, 5-7 p.m.
Ghirardelli Square hosts the Annual Light the Menorah Celebration where visitors can join Rabbi Peretz Mochkin in lighting the first candle of the Menorah – a celebration for the entire family.
Victorian Home Walk Tour's Yuletide Tour in Pacific Heights
Visit the inside of a period Queen Anne Victorian and discover the opulent history and grandeur of San Francisco! The walk is easy, the pace leisurely and there are no hills to climb. Established in 1996, Victorian Home Walk Tour has become a highlight of the San Francisco landscape and a favorite of tourists and locals alike.
http://www.victorianhomewalk.com/VictorianHomeWalk/Welcome.html
Classic Cable Car Holiday Nights & Sights Tour
A holiday tradition for more than eight years, the 70 minute tour begins at Taylor and Jefferson streets in Fisherman's Wharf. Complimentary Boudin's hot cocoa, Santa hats and the songs of the season make the ride on a motorized cable car a very special journey.
http://www.classiccablecar.com/holiday-lights-and-sights/
The San Francisco Travel Association is the official tourism marketing organization for the City and County of San Francisco. For information on reservations, activities and more, visit http://www.sanfrancisco.travel or call 415-391-2000. The Visitor Information Center is located at 900 Market St. in Hallidie Plaza, lower level, near the Powell Street cable car turnaround.
American Express® is the official Card partner of the San Francisco Travel Association.
San Francisco International Airport (SFO) offers non-stop flights to more than 34 international cities on 29 international carriers. The Bay Area's largest airport connects non-stop with 78 cities in the U.S. on 15 domestic airlines. SFO is proud to offer upgraded free Wi-Fi with no advertising. For up-to-the-minute departure and arrival information, airport maps and details on shopping, dining, cultural exhibitions, ground transportation and more, visit http://www.flysfo.com. Follow us on http://www.twitter.com/flysfo and http://www.facebook.com/flysfo.
# # #
Note to editors: For news and story ideas, follow @SFMediaRelation on Twitter. Photos and press releases are available at http://www.sanfrancisco.travel/media/.