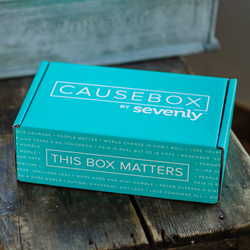 The CAUSEBOX by Sevenly curates some of the best products from socially conscious companies.
Fullerton, CA (PRWEB) November 24, 2014
Sevenly announces the launch of the world's first subscription box for socially conscious lifestyle goods - the CAUSEBOX by Sevenly, a new and revolutionary way to give back. Sevenly's expert team of curators have picked their favorite seasonal socially conscious items and brands for the limited edition box.
The contents of the boxes are a secret, but the business indicates that the brands and products inside the box reflect the company's belief that "People Matter" and that each box will contain an exclusive Sevenly product specifically created for CAUSEBOX subscribers. Every 3 months subscribers will get $150+ worth of socially conscious products for women at the economical price of $49.95 quarterly, and following Sevenly's trademark give-back model, each box purchased will donate $7 to charity.
"Sevenly is working hard to serve our charitable partners and customers in new and innovative ways," said Sevenly CEO Jim Van Eerden. "The CAUSEBOX by Sevenly curates some of the best products from socially conscious companies, created for people who are motivated in their shopping by a desire to make a positive impact in the world."
CAUSEBOX subscribers are able to choose between a quarterly subscription ($54.95/box) and an annual pre-paid subscription, which will give them access to 4 boxes for $199.80 ($49.95/box) and save members $20. Both options include free shipping and can be paused or canceled anytime. For now Sevenly is focusing on curating socially conscious products for women only.
"This allows us to focus better on delivering value when we're designing products and working with some of our favorite brands," says Stephanie Czupryk, Director of Marketing. "Eventually we plan to offer a CAUSEBOX for men as well."
Another part of the ground-breaking innovation of the CAUSEBOX by Sevenly is that subscribers for the first time can choose their donation recipient from one of seven charity partners from different backgrounds: Show Hope (adoption), Freedom Firm (anti-sex trafficking), Mercy Ships (global health & medical aid), Autism Speaks (autism advocacy, research and outreach), Mocha Club (development in Africa), Stand For The Silent (anti-bullying), or a feature charity that Sevenly will pick.
The CAUSEBOX give-back is two-fold: besides donating $7 per box to a charity of the customer's choice, each box features products from companies that are committed to doing good all over the world. Some give meals, some provide medical aid, others give money to help various causes. Each CAUSEBOX includes a "Reveal Card" that will help explain how and why Sevenly chose each product, and what each inclusion means for the betterment of the global community.
The first CAUSEBOX will ship the first week of December, and Sevenly makes it clear that the quantities are extremely limited. The CAUSEBOX is a great holiday gift for any woman who likes to support brands that are socially conscious and lives a lifestyle of generosity and giving.
About Sevenly
Sevenly's campaign for world change was launched in June 2011 to raise awareness and funding for the world's greatest causes. Each week, Sevenly launches new campaigns introducing featured charities and promotes art inspired by the specific charity, with $7 dollars from each item sold being donated to the designated charity. The company is increasing awareness, funding and following for charities that are changing people's lives every day across the globe. In just over three years, Sevenly has raised over $4 million and impacted more than 1.3 million lives. To learn more about Sevenly, visit http://www.sevenly.org.