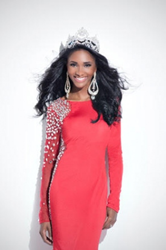 I count it all joy.
Atlanta, GA (PRWEB) November 21, 2014
Actors, Models and Talent for Christ Grad and Mrs. America 2014 Austen Williams competed in her last pageant Wednesday night at the international Mrs. World 2014 competition in Solomon's Island, Md. While Williams did not win the title of Mrs. World, she speaks about God's sovereignty throughout the competition. "I count it all joy. I have been blessed richly, God has been so good to me, and most importantly, it is well with my soul."
Williams was one of 35 married women competing in the Mrs. World competition. All women actively participate in political and public life and charity activities in their countries. The crowned winner of Wednesday's competition was 31-year-old Marina Alexeychik, Mrs. Belarus. Mrs South Africa, Sarah-Kate Scott was crowned 1st runner-up.
On August 28, 2013, Williams won the title of Mrs. America 2014. She made history after being crowned the first African-American to win the coveted title of Mrs. America.
Williams travels the country promoting her platform, Human Trafficking Awareness. She was recently in the feature film 8 DAYS: an After Eden Productions film in which all proceeds went towards anti-human trafficking organizations. She also serves with S.H.A.R.E Together International and co-hosts the teen talk show INsight. Throughout the Mrs. World competition, many of Williams' dresses were created by The Jubilee Market: fabric made by freed survivors of human sex trafficking. She speaks directly to this organization. "Thank you for being freedom fighters, for fighting for the those who cannot fight for themselves, and for creating the most amazing wardrobe all of which was Made by FREED survivors of human trafficking."
Williams is a coach and graduate of the international talent-development ministry, AMTC. The non-profit organization has a vision to see the Great Commission of Jesus Christ fulfilled in film, fashion, music and theater. On November 19, 2014, Austen Williams was a beautiful example of AMTC's mission in "making good bolder."
"All honor, praise, and glory, to the one who gives the best crown, the crown of everlasting life... my main man, JESUS," Williams says. For more information, visit: http://www.theaustenwilliams.com and http://www.insightscene.com. To learn more about AMTC, please visit http://www.amtcworld.org.