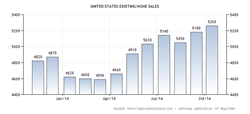 the forecast was for existing home sales to decline -1.35% from 5.17 million in September to 5.1 million in October. Instead sales increased 1.7%!
Chicago, IL (PRWEB) November 21, 2014
Lenders like Peoples Home Equity were exuberant to see existing home sales rise to an annual pace of 5.26 million homes in October. Not only was hits number the highest of 2014, but it occurred during a month when lenders expected to see a seasonal decline.
The National Association of Realtors(NAR) released their latest existing home sales reading on Thursday Morning, November 20th. As shown on TradingEconomics.com, the forecast was for existing home sales to decline -1.35% from 5.17 million in September to 5.1 million in October. Instead sales increased 1.7%! The news could not have been more uplifting for lenders like Peoples Home Equity. Just a reminder, existing home sales, as explained by TradingEconomics.com are "occurs when a mortgage is closed. Mortgage closing usually takes place 30-60 days after the sales contract is closed." The jump is existing home sales is even more impressive on a year-to-date basis, rising 13.85% from an annual pace of 4.62 million in January to 5.26 million in October. Moving forward, Peoples Home Equity expects sales to outperform year-over-year levels for at least the next 6 months.
Peoples Home Equity actually expressed that it hoped for a sales increase in October sales just before the NAR announcement in a publication titled "Existing Home Sales Set To Announce Soon" that "An annual pace of 5 million units would be just a bit higher than sales were in May. An expected decline is not surprising as sales always fall during fall and winter months. However, lenders like Peoples Home Equity always look to see how deep the fall will be. Peoples Home Equity is expecting 2014 to be seasonally strong in terms of home sales."
This existing home sales announcement is regarded as a game changer to the housing market. Housing industry being agents, lenders, inspectors, and builders alike are visually witnessing the housing recovery strengthen thanks to lower unemployment and a continuation of low interest rates.
Peoples Home Equity strongly advises all prospective home buyers, especially first-time home buyers to get pre-approved for a home loan now. Property available for sale will experience more competitive pricing and bids placed as more and more Americans get approved for a mortgage thanks to their new found employment rising credit scores. The only way to compete is to also be approved for a home loan and bid on desired properties before anyone else does, in addition it helps filter the property search based on how much one is able to borrow.
If unsure whether or not a home loan is an affordable choice, please note that frequently it's less expensive to pay the mortgage, association fee, taxes, and utilities than it is to pay rent! One can easily find out how much a monthly mortgage will cost by visiting PeoplesHomeEquity.com and click on Monthly Payment Calculator under the Calculator field.