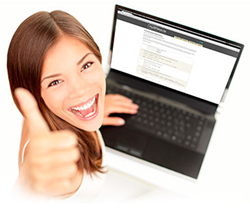 We save consumers time and money, and above all, the myWholeLife team manages health safely.
Vancouver, British Columbia (PRWEB) November 24, 2014
The team of expert nutrition and health practitioners at myWholeLife select only top quality, affordable and accessible health food products, supplements and services. Only those that meet the rigorous quality standards of myWholeLife and the individual health needs of their consumers, are considered.
Consumers access the power of the proprietary technology to run a Free Personal Health Report. The report is based on individual health concerns, and specifically advises which foods to incorporate into each consumer's diet and which to avoid. With this latest enhancement, the myWholeLife team of experts now recommends their top-rated and approved products and services.
"We take the guesswork out of the equation," myWholeLife CEO Darlene Higbee Clarkin is dedicated to keeping things simple for consumers. "Supplements, for example—Ever walk into a health store looking for a probiotic, only to be overwhelmed by the myriad of choices? Finally, you find a brand that seems familiar. You reach for it and realize it's just one of several different types within that specific brand. Is it the right one for you? Now what?"
myWholeLife does the research to make brand saturation, label reading, and clerk-finding a thing of the past. The team of experts, with the proprietary technology gets right down to the ingredient level to ensure that all health needs are met appropriately. They identify a consumer's needs precisely, based on age, gender, food preference, their main area of concern, and with consideration to allergies. They save consumers time and money, and above all, the myWholeLife team manages health safely.
myWholeLife brings together top quality health food products, supplements, authors, practitioners, health services and more. At the same time, they are careful not to over-recommend. "We limit recommendations to the top three brands and services available, and give consumers a choice based on price point," Darlene says.
Although the team have just started working with the product and service providers, they are eager to spread this exciting news. They have launched with the initial six partners—and that's just a taste of what's to come.
"It will take us time to get all the partners in place to cover all the areas of individuals' health needs, given our thorough evaluation and approval process," Darlene says. "Rest assured, we're well under way to approving additional partners, and we're in discussions with many more . . . it takes time to ensure that we select and approve only the best."
The capabilities of this technology platform, and the combined knowledge of the myWholeLife team of experts is endless, and will soon revolutionize the industry. myWholeLife will launch their enhanced Health Report in 2015, which will expand the depth of your health analysis and recommendations. In addition, they plan to white-label the technology platform for other companies to provide the tools needed to empower their own consumers when it comes to selecting the right products or services based on an individual's health needs.
Hear firsthand from a few of our initial launch partners:
"The team at myWholeLife is on the cutting edge of science, nutrition, and understanding the needs and wants of consumers trying to identify the right supplements and nutrients to improve their health. We at Sea-licious are honoured to be one of the original myWholeLife partners contributing the highest quality omega-3 supplements. Sea-licious shares a passion and commitment with myWholeLife to help people reach their optimal health through diet and lifestyle changes." – Karlene Krast, RD and Founder of Sea-licious and Veg-licious Omega Oils.
"Physicians will find the science-based approach at myWholeLife a unique resource for their obese, pre-diabetic or diabetic patients. These patients are often struggling to manage their weight, blood sugars, and eating habits within the limited resources in our public healthcare system. myWholeLife fulfils this need in an elegant and practical manner. Honeybush Health Ltd, as producers of ultralow calorie beverages and health teas, is delighted to share myWholelife's vision for empowered consumers and practitioners." – Dr. Alister Frayne MD, co-founder, Honeybush Health Ltd
"The myWholeLife commitment and vision to educate, empower, and give consumers the tools they need to live a healthy life mirror my mission. Everyone benefits when we partner to create and spread good health and well being." - Terry Walters, Best-selling author, is at the forefront of clean eating lifestyle movement.
For more information on myWholeLife's partner program, and to see who's been approved and aligned to make a difference in your quest for health and longevity, link to the myWholeLife Trusted Products & Services page.
myWholeLife combines leading medical research, holistic nutrition principles, and innovative technology to offer personalized health programs through online services and apps. The goal is to broaden public access to the knowledge and support of holistic nutritionists and related professionals, working in cooperation with medical practitioners, to bridge the gap between holistic nutrition and Western medicine.