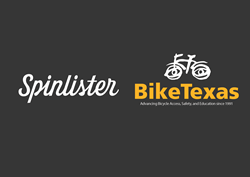 Austin, TX (PRWEB) November 24, 2014
Spinlister, the peer-to-peer global bike share, announced today that they have signed a major sponsorship deal with BikeTexas, an organization that encourages and promotes bicycling, increases safety, and provides a cohesive voice for people who ride bikes in Texas. As part of the deal, Spinlister is providing the financial resources, production material, and logistical support needed to help BikeTexas develop their new bike parking and bike valet programs. BikeTexas will offer these new services to event organizers in a combined effort to promote bicycling in Austin. In addition, they will also be listing their fleet of 150 bikes on Spinlister as a fundraising tool for their organization.
Robin Stallings, the Executive Director of BikeTexas, states, "With Spinlister's support, we'll be able to build a sustainable bike parking and bike valet program to serve the local community. These new services, along with the revenue expected from our rental fleet, will help fund our initiatives to create positive change in Austin for generations to come. Now, when travelers come to Austin they will not only be renting bikes but helping the community long after they are gone."
"BikeTexas and Spinlister share similar values and mission," states Chief Marketing Officer Andrew Batey. "We look forward to helping them build a better cycling community, and ultimately a better Austin. Like many people listing their own bikes, we're happy BikeTexas has the vision to see the value and sustainable benefits our platform provides."
Spinlister is encouraging Austin bike owners to list their bikes at http://www.spinlister.com/list to make money and help fellow cyclists in need of a bike. All bikes are insured up to $10,000 against theft or damage. If you would like to rent a bike in Austin or any other city worldwide please visit http://www.spinlister.com.
About Spinlister:
Launched on April 1st 2012, Spinlister is a peer-to-peer global bike share that allows users to rent and list bicycles, skis, snowboards, SUPs, and surfboards from each other in over 50 countries worldwide. With their seamless web, iOS and android apps, built-in security features, and a database of user reviews, Spinlister has won the trust of communities of athletes all over the globe.