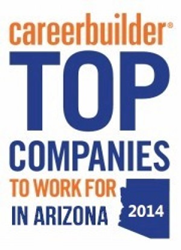 We believe in setting a purpose driven culture. Success comes easier when you have everyone working together as one unit and our team truly does this. ~CEO Mike Melton
Chandler, Arizona (PRWEB) November 24, 2014
ClearCall Solutions, a national leader in marketing and sales, was recently named one of the Top Companies to Work For in Arizona by Careerbuilder. ClearCall Solutions has been a steadily growing company, providing more Phoenix, AZ jobs every year as they continue to expand.
ClearCall Solutions has continually distinguished itself by the quality of its business practices and company culture. First launched in September 2001, ClearCall Solutions has seen positive growth every year. They have been able to accomplish this by providing great products to their customers through their partnership with Fortune 500 companies, by building sustainable business processes, and by uniting a team of people around a common goal of excellence.
CareerBuilder Top Companies to Work For in Arizona- This award is recognizing organizations that are creating quality jobs and work environments, making Arizona a better place to work. As one of seventy-five companies receiving the award, ClearCall Solutions was selected based on a two-part evaluation of such criteria as Employer Practices and Employee Engagement and Satisfaction.
"We believe in setting a purpose-driven culture. Success comes easier when you have everyone working together as one unit and our team truly does this. We created our core values years ago based on principles we believe in and live out as a group. This has been a big key to our growth. After all the success we have experienced over the years what I'm most proud of is our people and how each one of them has grown personally and professionally. It really makes coming in to work every day a lot of fun when the team feels the bond that we do. It's easy to have an authentic bond when your cores are linked." -CEO Mike Melton
About ClearCall Solutions:
ClearCall Solutions is a national leader in direct response sales and marketing, specializing in business-to-consumer acquisitions for Fortune 500 companies. They use innovation and their entrepreneurial spirit to grow their business units to achieve high volumes of inbound sales. Their partnerships with Fortune 500 companies are a formula that results in healthy, long-lasting relationships. Their core competencies are direct response marketing, business analytics, sales, call center operations, and product fulfillment.
ClearCall Solutions is the parent company to SecurityAlarmNow, an ADT home security dealership, DISHdirect, a DISH authorized retailer and American Cornerstone Insurance, an Arizona based company that sells car insurance plans, as well as providing new customers with a quote in just minutes.