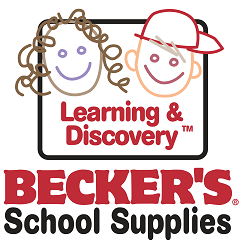 Pennsauken, NJ (PRWEB) November 28, 2014
Retail store closing sales will begin at six Becker's Parent / Teacher stores in Pennsylvania and Delaware on Friday, November 28. In time for the holiday season, just about every item in every department at all retail store closing locations will be reduced.
Teachers, parents and students will receive significant discounts of 20% to 40% off the lowest ticketed price on thousands of items including school supplies, classroom decorations, arts and crafts, puzzles, games, toys, easels, curriculum materials, workbooks and much more. Store fixtures, furniture and equipment at all closing retail stores will also be available for sale.
Becker's School Supplies is currently in its 86th year of business. As a family-owned business, Becker's values tradition but also embraces change when it makes us a stronger company. In a recent announcement, company president George Becker stated that the company has made a strategic move to close 6 of its 7 retail stores.
According to the president, "The hardest part of making this decision came down to the impact on both our employees as well as our customers. We are grateful to our store employees and management team for their dedication and hard work during many years of business. We want to thank our loyal customers and assure them that Becker's as a company is here to stay. We look forward to serving customers through our sales representatives, customer service center, and catalog and at ShopBecker.com for many years to come."
A spokesman for Hilco Merchant Resources, which has been engaged to manage the retail store closing sales stated: "This event will offer a very extensive merchandise assortment at truly compelling price reductions. It's a great opportunity for consumers to take advantage of major savings in time for holiday gift-giving, and to stock up for future needs. Everyone is encouraged to shop early for the best selection."
NOTE TO EDITORS: A List of the 6 Closing Retail Store Locations Follows
Philadelphia, PA - 9165 Roosevelt Blvd., 19114
Broomall, PA - 1991 S.Sproul Rd., 19008
Willow Grove, PA - 2510 Moreland Rd., 19090
Wilmington, DE - 4345 Kirkwood Hwy., 19808
Exton, PA - 284 Main St., 19341
Whitehall, PA - 2524 MacArthur Rd., 18052
About Becker's School Supplies
A family business, Becker's School Supplies was founded in 1928 by Charles J. Becker, Sr. Today, the company is still family-owned, with Charles Sr.'s grandson George as President and his nephew Al Jr. as Vice President.
Although it now offers thousands of specialty products to children, teachers and families, Becker's School Supplies still abides by the same set of values as it did 86 years ago: To provide each customer with personal attention and to treat them with the utmost respect. With products available via print catalogs, its website Becker's School Supplies takes pride in serving schools, teachers and families nationwide, dedicated to helping students learn and grow.