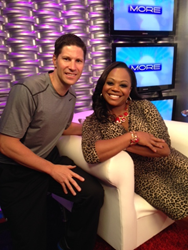 We show our prices and make it easy to determine the const of procedures.
Las Vegas, NV (PRWEB) November 24, 2014
Las Vegas is one of the most visited cities in the United States. From neon lights, to shopping, gambling, and entertainment, they have it all. The hotels have invested heavily to enhance the tourist experience and draw not only domestic, but international tourists as well. Now the focus is turning to healthcare according to Mayor Carolyn Goodman of Las Vegas.
Trevor Schmidt PA-C, the owner and liposuction specialist at MyShape Lipo has performed over 15,000 liposuction procedures on patients from around the globe. A recent case study surveying 1,403 of MyShape Lipo patients showed that 71% or 996 of those patients traveled from out of state or even out of the country to have their liposuction procedure. In fact, 7% of their patients have traveled to Las Vegas from Canada for their liposuction procedures.
Goodman has encouraged medical tourism, knowing that patients will be spending additional money on hotels, food, entertainment and shopping. "We continue to work to attract world class physicians and top quality medical care to Las Vegas both for the quality of life that we enjoy here and because of the world class medical operations that are located here as well," she said. The Las Vegas Convention and Visitors Authority (LVCVA) has estimated that on average each medical tourist will spend about $2400.00 in addition to their procedure costs.
MyShape Lipo is a specialty liposuction clinic located in the Las Vegas area. They have been in business for nearly 4 years and have been driving medical tourism the entire time. Their patients have found that their rates are very affordable, but more importantly, their specialized services in liposuction are much more appealing.
An increasing number of people are realizing the benefits of the quality of medical care that you can get in the United States, versus going to some underdeveloped country that has little to no standard of care. Quality and affordability is typically the focus of those that travel for medical treatments.
"We opened our doors in Las Vegas with the intention of encouraging medical tourism," says Schmidt. "We advertise nationally to attract patients from all across the country." He went on to say that "We've made the process so easy for those traveling and our location in Las Vegas makes it that much more attractive."
Las Vegas is the perfect place to attract tourists who are looking for more than just a good time. With cheap flights and a plethora of entertainment options, Las Vegas has stood out as one of our countries premier destinations for nearly any budget. The patients of MyShape Lipo tend to spend on average 3 nights and most travel with a friend or family member. They commonly partake in normal tourist activities like attending shows, eating out, gambling and local tours.
MyShape Lipo has made every effort to make traveling a seamless process for it's patients. The process normally begins with a complimentary Body Shape Analysis. This process allows for out of town patients to submit pictures and have the specialist evaluate their body for recommendation without flying to Las Vegas. This way they do not have to make multiple trips and they are able to avoid the additional travel costs.
"Transparency is key," describes MyShape Lipo's owner. "We show our prices and make it easy to determine the cost of procedures. Most patients really appreciate the honesty, especially in this industry."
MyShape Lipo seems to have thought of everything. They've arranged for discounted pricing with a local hotel, as well as free transportation to and from the airport and their facility. After an average procedure at MyShape Lipo, downtime is typically 1-3 days, but patients typically fly out after just one day. It is suggested that the patient wear a compression garment for a minimum of two weeks. Patients find it easy to return to their every day activities since the anesthesia is done locally which reduces risk, cost and recovery.
Patients can conveniently have a procedure done, then spend additional days sightseeing or enjoying the amenities. The staff at MyShape Lipo remain in communication with their patients through regular emails and phone calls, to see them through the entire process. Patients have access to 24 hours phone support from the specialist himself in the case that they have concerns.
MyShape Lipo is a specialty liposuction clinic located in Las Vegas, NV about 20 minutes from the Las Vegas airport. Trevor Schmidt PA-C has the experience of over 15,000 liposuction procedures performed. They offer a complementary Body Shape Analysis in person or via phone. For those that are unhappy with their body shape call today 702-818-5476.