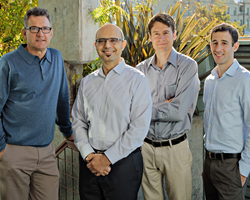 Mike and Marc represent the future...they share and build on the firm's core values and vision.
Berkeley, CA (PRWEB) November 24, 2014
Tipping Mar, the Berkeley, California, structural engineering firm known for cutting-edge, award-winning innovation, announces an expanded leadership and a new name, Tipping Structural Engineers. Current principals Steven B. Tipping, SE, who founded Steve Tipping and Associates in 1983, and Leo Panian, SE, have been joined by newly appointed principals Mike Korolyk, SE, and Marc Steyer, SE. Principal David Mar has left the firm to pursue other opportunities.
"Mike and Marc represent the future, the new generation, but they share and build on the firm's core values and vision," said Mr. Tipping, whose accomplishments in the area of seismic retrofit design are widely regarded as crucial to the San Francisco Bay Area. "I am inspired by their desire to meaningfully contribute to the betterment of the built environment, their commitment to exceptional client service, and their wish to empower and further develop our staff."
Since joining the firm in 2006, the UC Berkeley-educated Mr. Korolyk has contributed greatly to the firm's success in performance-based seismic design on projects such as the San Francisco Public Utilities HQ and the retrofit of UC Berkeley's Greek Theatre. Most notably, he was a crucial contributor to FEMA P-807: Seismic Evaluation and Retrofit of Multi-Unit Wood-Frame Buildings with Weak First Stories and the author of the Weak-Story Tool, the software application that accompanies the FEMA P-807 guidelines.
Mr. Steyer joined the firm in 2005 after working for engineering, architecture, and construction firms, including HOK. His wide range of experience has enabled him to successfully bring engineering expertise, management skills, and excellent client care to a variety of projects such as the Square Inc. and Zynga headquarter conversions, Pixar Animation Studios, Barneys New York, and the Sutter Van Ness Medical Office Building. He earned his undergraduate degree in molecular biology from Princeton University, his masters in engineering from the Massachussetts Institute of Technology.
ABOUT – Tipping Structural Engineers has been pushing the boundaries of engineering to achieve their clients' business and project goals since 1983. They unite fresh perspectives, courageous creativity, technical mastery, and an advanced understanding of structural behavior to bring the greatest value in structural and seismic engineering to their projects. More than 30 years' experience has led to a highly collaborative approach with owners, architects, and builders, including TMG Partners, BRIDGE Housing, Holliday Development, Leddy Maytum Stacy Architects, Gensler, Jensen Architects, Mark Cavagnero and Associates Architects, Pfau Long Architecture, Cahill Construction, Oliver Construction, Plant Construction Company, and Webcor, among many others.